Ferrari has become the latest Formula 1 team to incorporate boomerang-shaped wings into its bargeboard package, and has brought updated aerodynamic components to the Hungarian Grand Prix.
Having run through the early season with a less cluttered bargeboard package, Ferrari has accelerated its development in this area after fundamental issues were discovered with its aerodynamics.
The team redefined its upgrade path as a result, changing its front wing in France before adding further new parts at the following rounds.
Adding the 'boomerangs' to the bargeboards represents the next step, where the top element is attached to one of the fins, and the bottom element is mounted further back and lower down - as denoted by the red arrows in Giorgio Piola's photograph.
The two are kept at an equal distance with a small metal spacer to limit flex.
The boomerang craze is consistent with this year's technical trends, in which bargeboard development and complexity has greatly increased throughout the season.
The metal plate in the top piece (yellow arrow) appears to be the trailing edge for a vent, which accepts air from underneath and brings it towards the top - possibly to bleed out any higher-pressure air.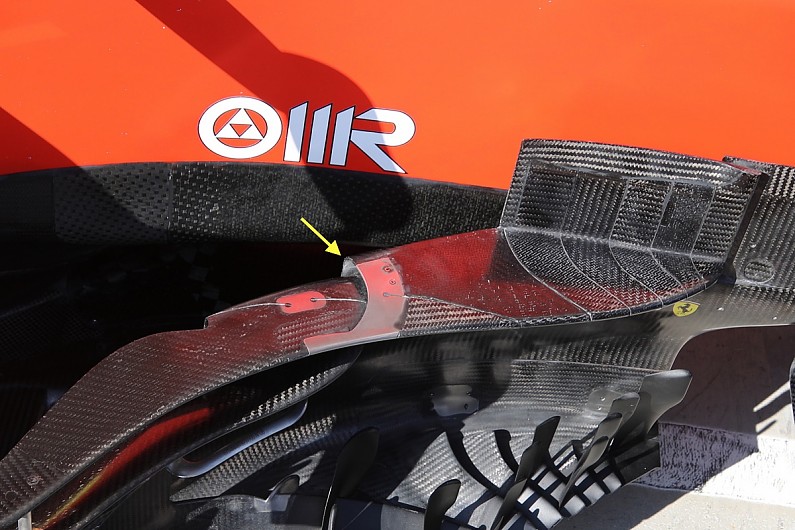 When the tip vortex at the inboard section of the front wing is produced, it moves downstream towards the bargeboard - in its transit, it creates a blockade between the turbulent air from the wheel and the front face of the floor.
Ferrari's boomerang seems to be shaped to pen that vortex in, keeping it below the sidepod inlet to push it around the undercut.
It also produces small tip vortices of its own, having not been attached to the turning vanes mounted to the sidepods, unlike other boomerang designs seen on the grid.
This suggests Ferrari wants to strengthen the airflow pushed outboard by the car, minimising the turbulence entering the floor and also building up the performance of the diffuser.
At recent rounds, Ferrari's performance in cornering has improved, although the SF90 still has a deficit to the Mercedes W10 in that particular area.
These changes to the bargeboard section seems to underline a concerted attempt to claw back further performance as the team chases its first win of the year.
Autosport has produced a standalone special magazine to celebrate our 70th birthday. All current print subscribers will receive a copy for free. To order your copy of the 196-page Autosport 70th Anniversary issue, please go to: autosport.com/autosport70th