Lando Norris is set to escape further power unit-related penalties at the Hungarian Grand Prix after McLaren and Formula 1 engine supplier Renault identified the cause of his Hockenheim retirement.
Norris started the German Grand Prix from 19th on the grid after power unit components were changed due to a battery problem, and he then retired in the race after suffering a loss of power from the combustion engine.
The subsequent investigation has determined that the cause of the problem was not the engine itself, but an ancillary that is being modified for the Hungarian GP.
A McLaren spokesperson told Autosport: "Lando's PU suffered an ancillary failure that forced us to stop the engine.
"We will fit a new design in Hungary. The PU has not been damaged and will be reused in Hungary."
It is understood that the part that caused Norris's retirement was a Renault design.
Norris can take a third MGU-H without penalty, but any other elements would trigger further penalties because he took on a new energy store, control electronics and MGU-K in Germany.
His McLaren team-mate Carlos Sainz Jr, who has already used four V6s, turbos and MGU-Hs, would be set for penalties if any of his six power unit elements are changed.
McLaren team boss Andreas Seidl admitted it was a "concern" to be taking penalties early in the season.
He added: "We appreciate the ongoing development that Renault is doing in making steps, and, of course, it's not the target to get all these penalties, but that's the situation that we're in at the moment.
"Hopefully, together with Renault, we can improve this situation."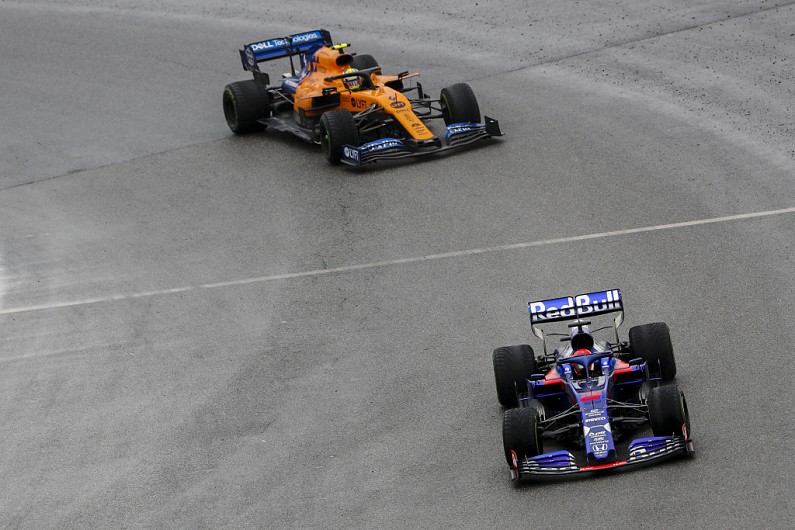 Norris believes McLaren is set for a "tough" Hungarian GP after it struggled to continue its best-of-the-rest form in the German GP.
McLaren remains fourth in the constructors' championship and it believes that its midfield rivals had closed the gap in Germany after it was out-qualified by Alfa Romeo and Haas.
Toro Rosso and Racing Point defeated McLaren in the race, with Renault also likely to have beaten McLaren if it had not suffered a double retirement.
Asked by Autosport for his feelings about the Hungarian GP, Norris said: "This [last] weekend [in Germany] was already pretty tough.
"As good as it looked at times with P5 [for Carlos Sainz] as a result, our pace wasn't that strong. So we've got a lot of work to do. I think a lot of others brought upgrades and made some decent steps ahead of us.
"It's going to be tough no matter what. If we're quick or slow, it'll be tough, and it doesn't look like we have as strong a car as we've had in the past few races."
McLaren technical director James Key believes McLaren's slide back into the midfield pack in Germany was due to track characteristics.
"I think it a natural ebb and flow to a certain extent," he said.
"You saw in Q2 there were three hundredths [of a second] separating about six or seven cars, so it was ridiculously close.
"And that has been a maybe extreme example of what it has been all year.
"I think where we have had a little bit of benefit is that we have consistently been there or thereabouts, and others have maybe had more extremes on occasion.
"There are strengths and weaknesses of each car and package that you see coming for each circuit."