McLaren team boss Zak Brown says that it is "fun" to come to Formula 1 weekends again now that his squad is enjoying stronger performances in 2019
After winning the best of the rest midfield battle in four of the last five races, McLaren currently lies fourth in the constructors' championship.
"It's fun to come to the race track now," said Brown. "It wasn't fun the last couple of years.
"We're just trying to consolidate where we are, the drivers are doing a good job, Andreas [Seidl, team principal] is settling in well, and development is underway on next year's car."
When asked by Autosport if the fun element was purely down to improved performance, Brown said: "Just the racing.
"You show up to the race track, you're in the garage, and you want to cheer for your team.
"The adrenalin of fighting for Q3 - there's not much of an adrenalin rush fighting for Q1, and that's what we were fighting for last year, especially the second half of the year.
"Clearly we've got a better car this year than last year, but we started OK last year and declined as the season went on, or didn't improve as everyone else improved.
"By the end of the year we were the eighth, ninth, 10th car. I want to make sure we don't have a repeat of that."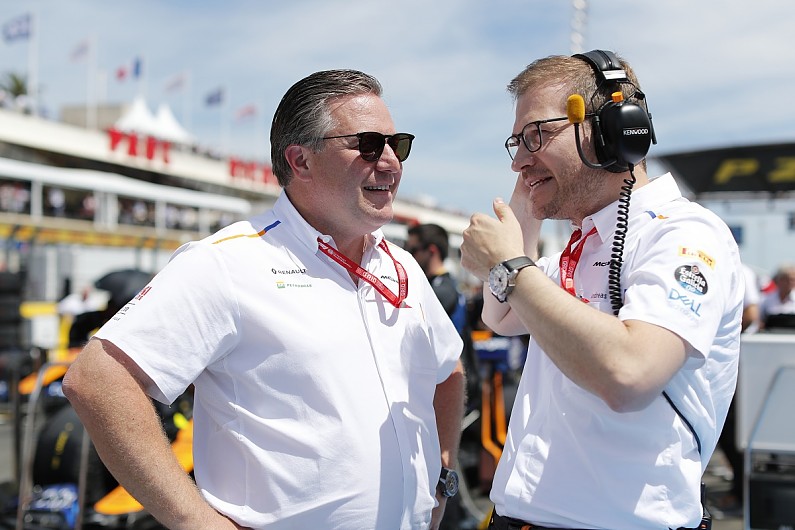 But Brown downplayed the suggestion that McLaren is now clearly the fourth best team on the grid.
"I'm not sure we're solidly the best team in the midfield, as it's so close, that's why we need to keep our head down," he said.
"We're early enough in the season that you can go from fourth to eighth in no time.
"Our goal was to improve on last year, and in reality we were seventh, not sixth, because of the whole points situation [with Force India/Racing Point].
"I'm pleased with how we're doing. We have to keep our head down and stay focussed, because a bad weekend by us and a good weekend by somebody else [means] you can fall down the order quickly."
Brown praised Carlos Sainz and Lando Norris for their contribution to McLaren's turnaround this year.
"We're very happy with both our drivers, they're both very quick they get along very well, they drive for the team," he said. "That's what I think I'm most pleased with.
"If you look at our competitors, I think one of the reasons that we're currently fourth in the championship is a lot of credit to our drivers both bringing it home.
"Whereas you look at some of our competitors - I think their cars are as quick as ours if not quicker at times - but they have one driver that's strong, or no drivers that are strong.
"I think our driver combination deserves a lot of the credit for where we are right now."