Lewis Hamilton says he decided not to block Mercedes Formula 1 team-mate Valtteri Bottas while the pair battled for the lead in the early laps of the British Grand Prix.
Hamilton managed to squeeze past race leader Bottas around the outside exiting Brooklands on the fourth lap, but Bottas then surged back past heading into Copse.
The five-time world champion, who eventually won the race, said he would have taken more risks had he been fighting a driver from a different team.
"I know how hard is it to get a pole here," said Hamilton.
"He [Bottas] did a fantastic job, and I know how hard it is to wake up and deliver every weekend, as do these other drivers, so the respect is there between us.
"I think we want to race wheel-to-wheel and tough.
"When you're racing with a team-mate, it's on a different level. If I were racing a Ferrari, you take more risks.
"[You are] still respectful, but you can lean on them a bit more but as team-mates, we sit down at the beginning of the race, we talk about Turn 1 and how we're going to respect each other, make sure we don't collide.
"And even when I overtook him and he was coming back, I could have swept across the front and blocked him - but that's not the right thing to do.
"Ultimately it enabled him to get back past - but that's racing."
Hamilton said his early charge came as a surprise to Bottas, who was expecting him to be preserving his tyres.
"I was supposed to start the race and save the tyres, and I went flat out from the beginning, which was definitely not expected from everyone," he said. "Valtteri definitely didn't expect it.
"The long runs, everyone else's tyres were degrading massively, and I had the best long run on Friday of everyone.
"I'm sure everyone would have seen my data and been looking at how I saved the tyre, and tried to do the same, and I just did the opposite."
A mid-race safety car played into Hamilton's hands, as it enabled him to complete his one and only pitstop and still rejoin ahead of Bottas, who had stopped four laps earlier and was on a two-stop strategy.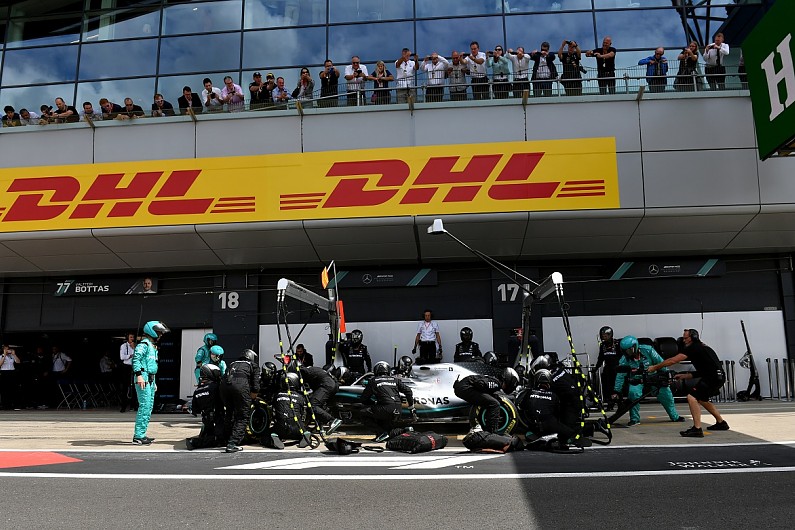 However, Hamilton insisted the safety car did not hand him the victory, as he believed his one-stop strategy would have played out in his favour.
"I was going to do a one-stop, and he was on a two, so the safety car wouldn't have made any difference," said Hamilton.
"When he pitted on lap 16, my plan was to offset as much as I could. I think I went four laps or something, and I probably could have done another lap or two.
"And at the time he was not catching me. He should have been catching me, but he wasn't catching me, and I was keeping the gap generally the same.
"He came out of the pits seven tenths inside my window, so I would have pitted seven-tenths ahead. And then it came to one, then one and a half, but it stayed around one and a half to two.
"If I'd done another lap it would have maybe got to two and half, and I would have come out on my fresh hards.
"And I could have just sat behind him if I wanted to, and then he would have had to pit.
"So I would still have had that 21-second gap, so it didn't really make a difference."