An unusual high-voltage problem denied Alex Albon a points finish in the British Grand Prix after his Honda Formula 1 engine issue prevented him from making a second pitstop.
Albon was among the first drivers to make a scheduled stop, on lap 13 of 52, and he spent most of the Silverstone race inside the top 10 after making it into Q3 for the second time this season.
However, he dropped out of the points with two laps left after completing 39 laps on the same set of tyres, because a voltage concern meant Toro Rosso and Honda decided not to risk pitting him.
Since F1 first adopted hybrid technology 10 years ago there have been strict rules surrounding how to handle the cars and when it is safe to touch them, which has escalated since the current turbo-hybrid engines increased the amount of electrical energy from the power unit.
Albon's problem, which has not been fully identified yet, meant the car would be unsafe until the ignition was switched off. Honda F1 technical director Toyoharu Tanabe told Autosport: "We had a caution from our high-voltage system.
"We will investigate exactly why it happened, from now.
"If you have some caution from the high-voltage system you need to turn the engine off to touch the car.
"Which is better - you keep running, or stop and turn the engine off to change the tyres?
"The compromised answer which we and the team made was to stay out."
Such a problem is highly unusual, with Tanabe not seeing it occur since assuming his F1 role ahead of the 2018 season.
"This is the first time in one and a half years it's happened in person, trackside," he said.
Albon was running in between Renault drivers Daniel Ricciardo and Nico Hulkenberg during the first stint and they went on to finish seventh and 10th.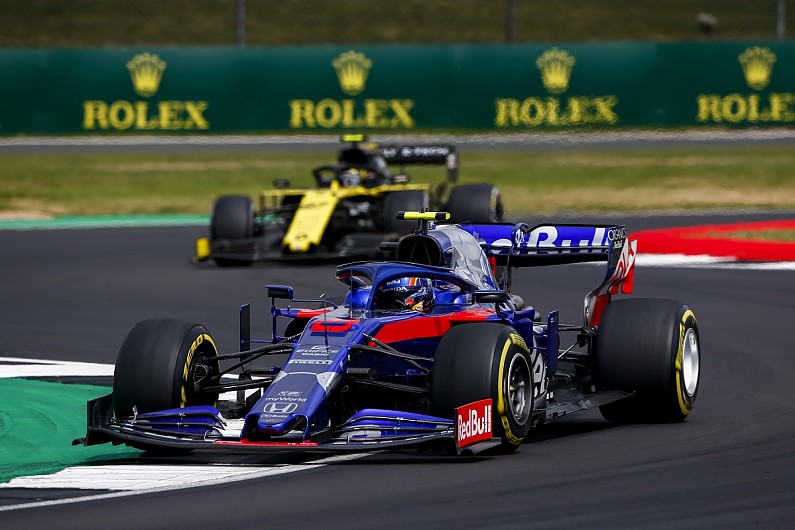 All three drivers pit before the safety car but even with that unfortunate strategy implication, the Renault result backs up Albon's claim he would have scored points for the fourth time this season had he been able to execute his planned two-stopper.
Albon could not comment on the problem when he spoke to media immediately after the race, but said he didn't "want to make any excuses".
He said his mammoth stint on the medium tyres meant he could "see the carcass coming off".
"Another lap and we would have ruined the tyres," he said.
"I still think our pace was good. It's just we were on very old tyres."