Daniel Ricciardo says the Renault engine which expired in Formula 1 British Grand Prix FP2 was a high-mileage, older-spec unit which was reserved solely for Friday running.
He was forced to park up at the Maggotts section in the closing stages of Friday's second practice at Silverstone when his car shut down.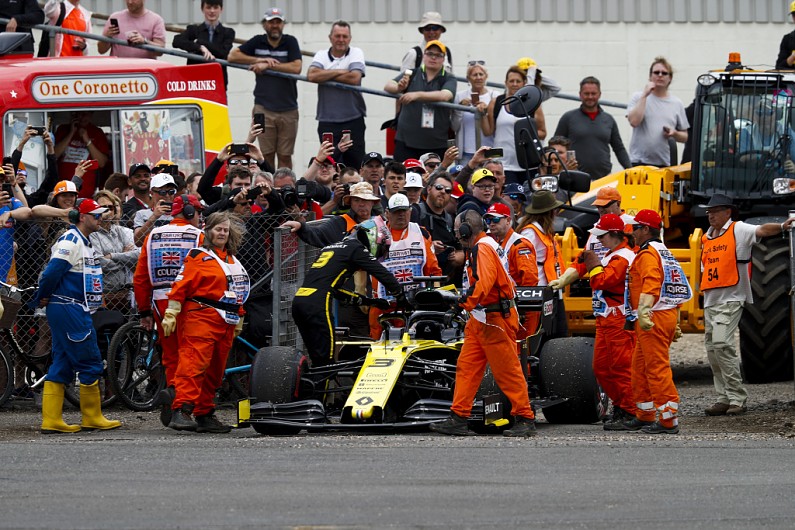 Ricciardo, who claimed that the engine was nicknamed "Pony" in the Renault camp, confirmed that the well-used unit won't be seen again.
"I think it's RIP to that engine." he said.
"So we're going to have a little service tonight for it. It was called Pony as well, so we had to put Pony down I think.
"That was the original spec, so it was definitely just a practice engine. It would have been nice to get that to do a few more Fridays.
"But the word for now is that we're gonna say 'adios' and put Pony down."
Asked by Autosport if he would miss Pony he said: "Yeah, we'll do a little service for Pony tonight. It was an A-spec, so it wasn't my most loved one anyway
"I got first points with Pony in Shanghai, I think it was. So she enjoyed China, loved a bit of Chinese food, strong guts, but other than that I think we'll forget about Pony tomorrow once we spread the ashes tonight."
Ricciardo and team mate Nico Hulkenberg finished FP2 in 14th and 15th positions, but the Australian expects to see an improved performance on Saturday.
"I think the time sheets don't show too much optimism, but I think we are better than that," he adds.
"For sure we've still got some work to do, but I think there's some lap time on the table which we can get quite quickly.
"But to put us there into that P7, P8 area we do need to find a little bit more. So I think we're currently good enough to probably get inside the top 10, but just.
"I think we obviously want to get a bit deeper in there. So still a few things to discover on the car."
Ricciardo confirmed that the set-ups of the two cars have converged: "This morning Nico and myself split set-ups.
"This afternoon we got them closer, but we're still a bit different in some areas.
"So trying to understand what's the best direction to go now. I think we'll find it. We're kind of there or thereabouts.
"There's a few other things that we did on the sim which might give a go tomorrow, but I don't know.
"I don't want to change too much, but I know we need to change a little bit to get to where we want to be."
Autosport has produced a standalone special magazine to celebrate our 70th birthday. All current print subscribers will receive a copy for free. To order your copy of the 196-page Autosport 70th Anniversary issue, please go to: autosport.com/autosport70th