Renault driver Daniel Ricciardo admits his team's current form in Formula 1 "doesn't add up", after the manufacturer failed to score points in the Austrian Grand Prix.
Renault had both cars in the top 10 on the road in Canada and France - although Ricciardo lost his points finish to a penalty at Paul Ricard - but the upgraded RS19 then struggled for pace in Austria.
After qualifying, Ricciardo had said he felt the Renault was missing something "fundamental" after lapping 0.8s off the leading midfield runner.
Ricciardo added that finishing 12th in the race was the culmination of "a tough weekend" and that he had "no real answers" to Renault's Austria problems.
He said: "I really hope we're going to find something this week because, for example, Le Castellet was a lot windier yet I didn't really feel affected by the wind, where even today the car felt like there was massive turbulence during the race, in terms of the way it was handling, and the high-speed was very light.
"So I feel something still wasn't quite right on the car this weekend, what that is, we still don't know, but I'd like to believe we're going to find something because right now it doesn't add up.
"For now, I remain optimistic that I'll be like 'that was what was wrong', and then we'll be in Silverstone laughing."
Ricciardo said he'd spoken to team-mate Nico Hulkenberg, who finished two seconds behind in 13th, after the race and said he had provided similar feedback.
"It sounds like he struggled with the same things, just a very light car and a light feeling, especially during braking," added Ricciardo.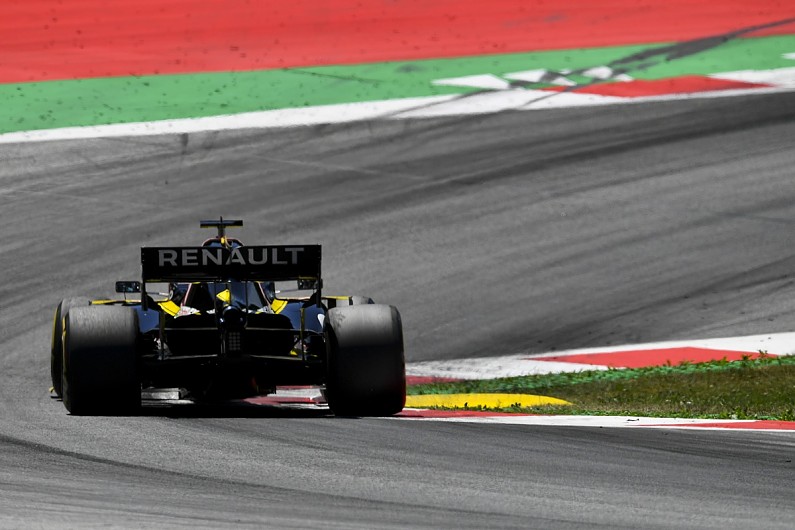 Asked for his view of the Renault RS19 in the race, Hulkenberg confirmed problems with handling and braking.
"The conclusion is that nothing really worked today," he said. "Some very strange issues, a very square kind of braking which was difficult to control the car at times.
"Also driving in a straight line, the front felt very light and it was getting pushed around as if you were in tow behind another car.
"It was certainly not easy today, the Alfas in the points were not very far ahead of us but following another car was very tough in those fast corners. We didn't have enough pace to get by."
Hulkenberg said the problems Renault suddenly faced at the Red Bull Ring were "a bit of a surprise and a bit strange".
"Austria is a very particular circuit and in the last few years at Renault we've never had a great experience here, so I kind of hope it's more track-specific," said Hulkenberg.
"But let's hope we can use that next week, take a deep dive into the data, take a look at things and see what's going on."