Daniel Ricciardo still thinks it was "too harsh" that he received two penalties for overtakes on the final lap of Formula 1's French Grand Prix last weekend.
Ricciardo finished seventh on the road at Paul Ricard, but dropped out of the points after he was given two separate five-second penalties - the first for rejoining the track and forcing Lando Norris wide, and another for overtaking Kimi Raikkonen while off the circuit.
But while Ricciardo said he understands why he was penalised for his move on Raikkonen, he felt a second was unjust because it promoted a car - the Red Bull of Pierre Gasly - that had not been part of the final-lap battle into the points.
"I certainly feel two [penalties] was harsh," said Ricciardo.
"I get one, and get why they needed to do one because otherwise it is like... he is off track and everyone is going to complain, what are the rules for?
"Whether I feel it enlightened the race or not, I think the one was slightly inevitable if I am really honest.
"But two, I just thought to drop me out of the points I thought it was too harsh. With the one I would have dropped already to 10th, so give me one point for trying!
"I've nothing against Gasly at all, but he wasn't in our battle, and he kind of steals the point. I didn't think that justified it.
"But it is all good... I got over it pretty quickly."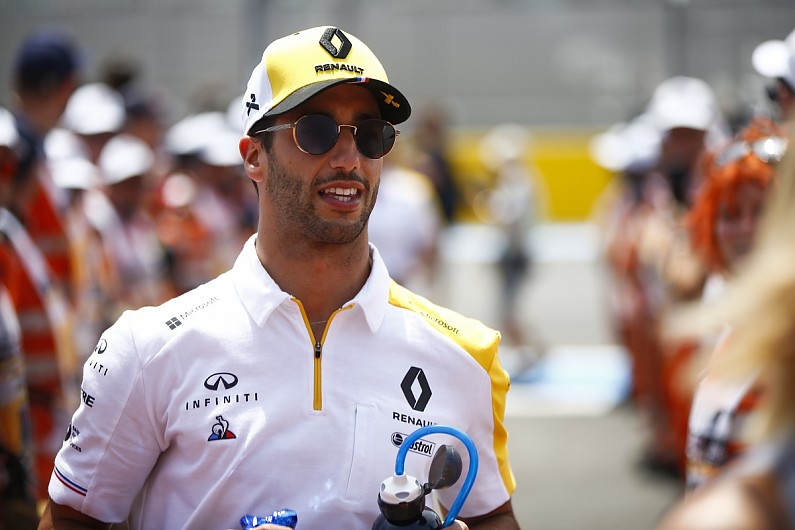 Ricciardo said he was not sure why stewards treated the moment at the chicane with Norris that preceded it as a separate incident.
"I know that I was off track so at some point I could not really argue with that," he added.
"So, I would treat it as one incident and not two separate ones.
"The Lando one is the one I don't necessarily agree with because I think, if anything, it kind of slowed us all down and I don't think I gained an advantage with what I did with Lando."
Ricciardo said the nature of the Paul Ricard circuit's extensive runoff areas prompted him to pass Raikkonen off track, and that introducing gravel traps would "automatically" stop drivers attempting such overtakes.
Raikkonen agreed that Ricciardo having the option of taking to the asphalt contributed to the incident.
"If he wants to go on the right-hand side he has the space, but I know you can obviously go there but something's going to happen afterwards," said Raikkonen. "So that's where he went.
"If there is a wall then he wouldn't go past us, it's as simple as that.
"We all know the rules - we think about the rules all the time and try them out, but you make a decision and for sure at some point when he got past he probably thought, 'Let's see what happens'.
"That's the result."