Carlos Sainz says his apologised to his McLaren team for being in a "bad mood" and "rude", before he drove from 19th to eighth in the Austrian Grand Prix.
The Spaniard had been far from happy on Saturday when he knew that his qualifying efforts were wasted because he would be starting from the back of the grid anyway thanks to an engine change penalty.
"I was very depressed," Sainz told Autosport.
"I don't know why I had a really bad day. I was in a bad mood the whole day.
"At some point I think I was even a bit rude and I apologised to everyone because I think I had one of those painful days that you cannot wait to finish.
"I didn't even use qualy mode, so I didn't even get to feel the power of the new engine.
"On Sunday I was a new man.
"Still I didn't expect to finish where I finished and have the pace I had."
Sainz is also convinced that his charge to eighth would have been even better if he had not broken his front wing late in the race.
As he closed in on team-mate Lando Norris and Red Bull's Pierre Gasly ahead of him in the closing stages, Sainz suffered a broken front wing - which cost him a lot of downforce and meant he could do little to move further up the order.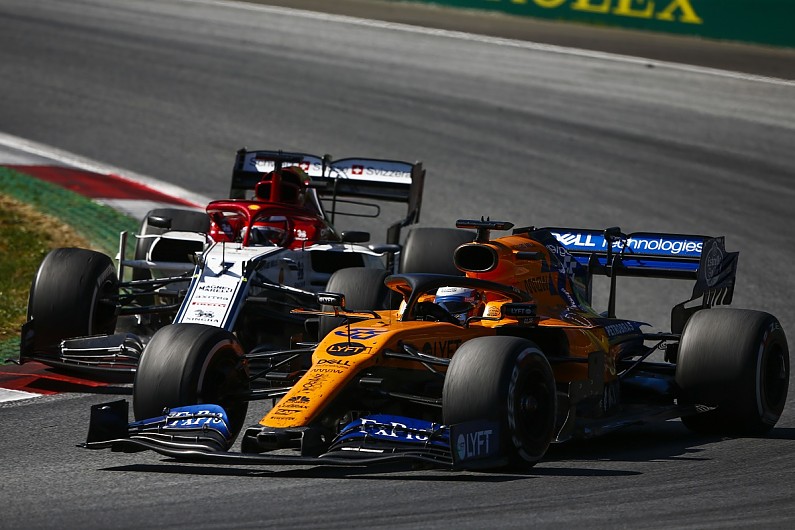 "I'm a bit surprised because we had some serious pace," explained the Spaniard.
"Right from the start I managed the tyres instead of overtaking at the beginning as I wanted to create a bit of tyre delta for the last stint as my race was was going to get better and better with our tyre degradation.
"In the second stint I was very, very fast. I did the fastest lap at some point, and from there on I passed one car every lap in the midfield and then suddenly I saw myself behind Gasly and Lando, catching them half a second a lap.
"But just when I was about to enter the three-second mark with Gasly the front wing broke. I don't know how. I
"I think it was with one of these strange kerbs and I lost a lot of the aero balance.
"I lost the whole flap and had to nurse the eighth place home, which I nearly lost to Raikkonen, but the pace was still there."
McLaren team boss Andreas Seidl reckons that the damage to Sainz's car cost him around one second per lap, so it was quite fortunate that the pursuing Raikkonen had also lost pace.
"Carlos simply had a lot of understeer, and lap time-wise how much he will lose is about one second," he said.
"I think then it was just about battling it through.
"We were lucky that Raikkonen also lost pace in the last laps in the end.
"But Carlos' race, he made sensational laps and sensational overtakes, keeping it together.
"The target was to stay out as long as possible in the first stint with the mediums in order to then switch at a late stage to the hard ones and then make all the positions up."