Austrian Grand Prix polesitter Charles Leclerc believes a different set-up philosophy has given him a "stronger front" on his Ferrari Formula 1 car compared to previous events.
Ferrari has been searching for more performance with its 2019 challenger, and is exploring new aerodynamic solutions that involve trading some of its straightline speed performance for greater downforce.
Even though it must wait to bring upgrades that can achieve that, Leclerc was able to give Ferrari its third pole of the season by dominating qualifying at the Red Bull Ring.
Leclerc's pole lap was underpinned by the fastest time in the middle sector, which comprises more corners compared to the first sector, which is the run to Turn 1 and then the long uphill climb to Turn 3.
When asked to explain that middle sector performance by Autosport, Leclerc said: "I think our main issue in the last few grands prix was the front. We didn't have enough front [end].
"This weekend it was quite a bit better - we tried quite different set-ups and also set-up philosophy.
"It doesn't mean a big step up [from] the other races but for here it worked pretty well.
"I think the most time gained on the second sector is [from] a stronger front compared to the last grands prix."
Leclerc outqualified Hamilton by 0.259 seconds and set two laps good enough for pole. He said his improvement in Q3 was down to a further set-up tweak that gave him more performance in the middle part of the lap.
"We changed the car a little bit after the first run in Q3," he said.
"I knew it would be a bit of a compromise for the first sector but actually it wasn't that bad and then I improved quite a lot in third sector, which is nice to see."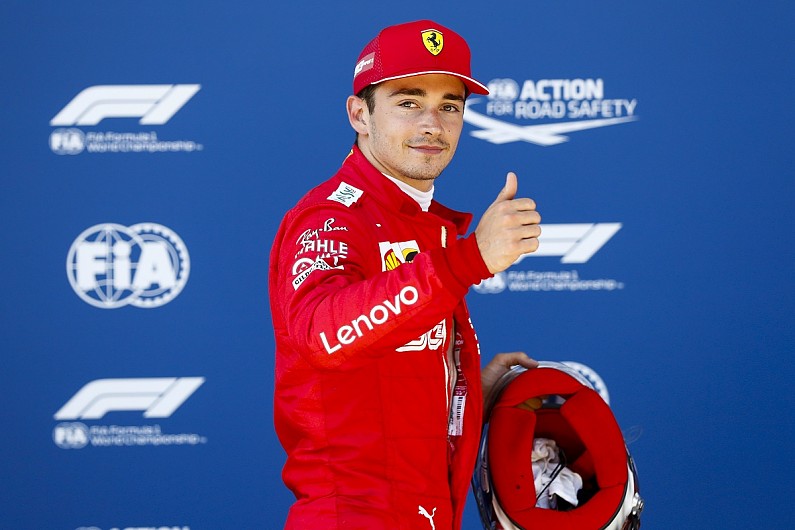 Ferrari's pace in final practice and the second part of qualifying suggested it could have locked out the front row with Sebastian Vettel.
But the four-time world champion failed to set a time in Q3 after an engine-related problem.
Leclerc said: "I'm very happy for pole position but it's just a shame for Seb as probably the two cars should be closer to first and second.
"I was informed he had some issues with [the] car. They didn't feel concern on my side. I don't know if they were, maybe they were behind the computers. But they weren't showing it to me."
Despite trading off some straightline speed, Leclerc believes Ferrari has the pace in Austria to avenge his heartbreaking Bahrain GP - when he was on course for a first F1 win but suffered an engine issue late on.
"The start is important, there is a long straight after it but normally we are quite good on the straights," said Leclerc.
"Hopefully we can keep the position in the first three corners, but the pace itself looks promising."