McLaren is facing a dilemma over whether to go for Renault's latest upgraded B-spec Formula 1 engine in the next few grands prix.
The team's supplier Renault introduced its more powerful engine for works driver Daniel Ricciardo at last weekend's French Grand Prix, with his team-mate Nico Hulkenberg not getting it because the team wanted to avoid him getting a grid penalty.
Renault's customer McLaren had the option of running the engine in France but elected not to, because Carlos Sainz Jr has already used up his quota of three power units already and the team felt it better to wait with Lando Norris as well.
But with this weekend's race in Austria putting a premium on horsepower, McLaren says it is now weighing up what it does because the situation is not clear cut and it is eager to avoid unnecessary grid penalties later in the year.
Team principal Andreas Seidl said: "It is still something we are working out at the moment. We have to collect the data again after France, and then we have to work out our plan.
"And especially what does it mean in terms of penalties until the end of the year with the different scenarios that are around."
McLaren's situation is complicated by the fact that Sainz has had to use an extra power unit already this year as a result of the MGU-K failure that he suffered at the season opening Australian GP.
It means that if McLaren elects to hand him the B-spec he will have to take a grid penalty.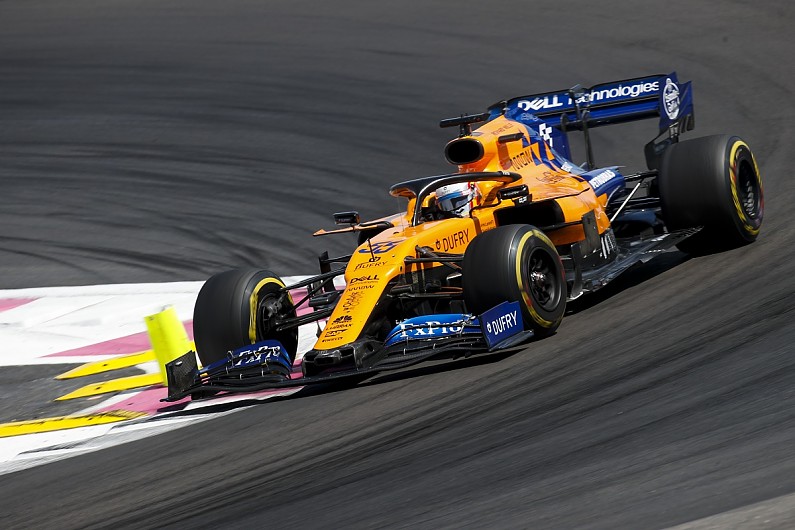 Seidl added: "As soon as Carlos is going for the upgrade then we get the penalty, because it is the fourth one. So we need to figure out now when we do that.
"That is unfortunately part of the game. But it is the same for the others around. We have seen others are taking penalties already now, so we have to see.
"But the engine is a good step. It is encouraging to see that Renault is bringing updates."
Seidl explained that McLaren chose not to run the B-spec in France because it felt that running it at Paul Ricard would virtually guarantee the need for another change later in the year.
"In the end, how the regulations are, you need to make a plan of how you're going to use your engines throughout the season in terms of the modes, mileage and so on to avoid penalties," he said.
"We got the engine delivered from Renault, which is good and encouraging to see that they keep bringing steps.
"But again the plan for us was that it was better not to use it yet, simply to minimise the number of penalties that we would get until the end of the season."