Ferrari team principal Mattia Binotto says Ferrari is disappointed for itself, its fans and Formula 1 following the FIA stewards' decision not to review Sebastian Vettel's Canadian Grand Prix penalty.
A hearing at Paul Ricard on Friday, ahead of the French Grand Prix, resulted in the stewards from the previous race in Canada rejecting Ferrari's request for a review of their decision 12 days ago.
Ferrari was seeking to overturn the five-second penalty that cost the team and Vettel their first win of the season.
Addressing media on Friday at Paul Ricard, Binotto said: "No doubt that as Ferrari we are all very unhappy and disappointed.
"We're disappointed certainly for Ferrari, but we are disappointed for the fans and for our sport.
"We do not intend to comment any further."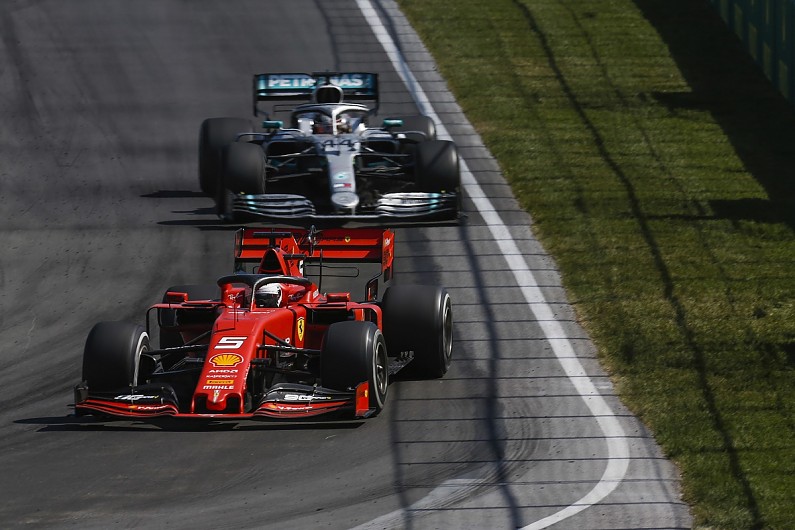 The stewards decided Ferrari did not present any "significant and relevant new elements" that were unavailable at the time in Canada.
They determined that of the seven items Ferrari presented as evidence, five were "available before the end of the competition" and two were "new but not significant and relevant".
Binotto evaded two further questions related to the effect the decision would have on the team this weekend, and about the discrepancy between sporting director Laurent Mekies' claim the evidence Ferrari had was "quite overwhelming" and the stewards throwing that evidence out.
Ferrari had attempted to gain a review by utilising a clause in the FIA's International Sporting Code.
That meant it was able to contest the decision despite not being appeal to appeal the stewards' verdict directly.
When asked by Autosport if the matter is now finished, Binotto said: "Yes. It is closed."
Vettel said he was not surprised by the decision from the stewards because "we have so many pages in our regulations, that if you want, I think you'll find the paragraph that suits".
He shared Binotto's view it was "disappointing" and said "everybody is to blame" for F1's rules being the way they are.
"They started a long time ago, when it was about, 'oh, did he cross the white line, use too much kerb'," he said.
"Let us do what we want! If you're unhappy with how we race or how we drive, then build different tracks, you know?
"It's easy as that, don't build car parks with lines and kerbs on it, like that one.
"As I said, there are too many paragraphs, but what do you change? How can you change it?
"Just burn the papers."