Formula 1 world champion Lewis Hamilton believes he hit a "sweet spot" in form during 2018 and has managed to maintain it ever since.
Hamilton has won five of this season's grands prix so far and is now 29 points clear of Mercedes team-mate Valtteri Bottas in the championship battle.
In 2018 he took control of what had been a tight title fight against Sebastian Vettel with eight wins from the season's final 11 races.
"Last year I hit that sweet spot at some point during the season, and started being really, really consistent," said Hamilton.
"The races have been really strong, as last year, and I've not really dropped the ball in that sense, I've not dropped off.
"Last year qualifying at the end of the year was very strong.
"But it's all to do with lifestyle, health, all those kinds of things, and they have a real impact. Also we're doing a great job as a team.
"Whether or not we're quickest on the weekend I've still got to do the job and deliver. I'm hoping that the rest of the year continues.
"I'm happy where I am in life, I have my health, and the people around me. That's all down to lifestyle, and life choices."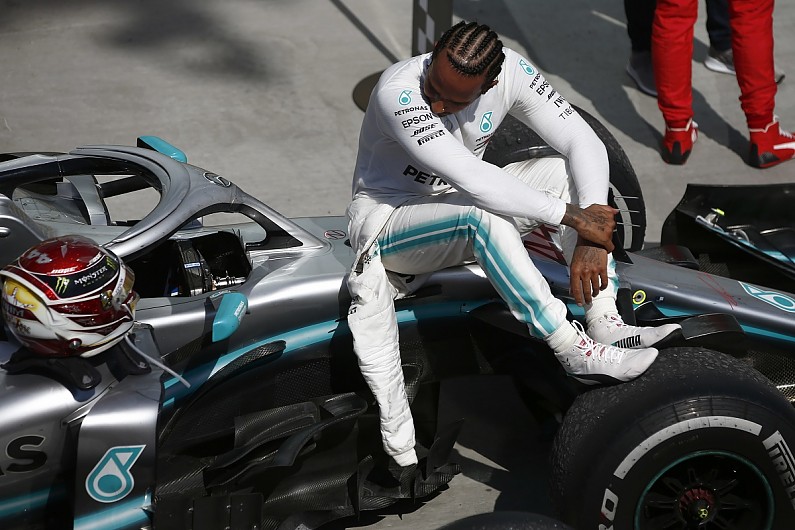 Hamilton made a rare error when he crashed in Friday practice in Canada, but he rebounded and won the race once Vettel was penalised.
"I take a lot of pride in my work and particularly my track record of not making mistakes," Hamilton added.
"I've managed to get myself in a really good place, and really delivering minimum faults, mistakes on race weekend and races.
"A small hiccup on Friday [in Canada], but I was able to pull it back on Saturday, and then throughout the weekend."
Though Mercedes is still undefeated in the 2019 F1 season, Hamilton is adamant it has not always had the best car and that several of those successes have been down to overcoming faster opponents.
"What I can say is my races have been really, really strong, really consistent, and even weekends where we've not had the car to really win, I've been able to put it right there with the frontrunners," he said.
"My goal on a race weekend is obviously to do the best that I can do for the team, but it's also to really extract above and beyond."
He said the contribution he was now able to make to Mercedes beyond just driving was something he was particularly proud of.
"If you can be an all-round driver, you work well outside of the car and particularly to pull these things out that others are perhaps not always able to pull together, it makes your value go up," said Hamilton.