Renault's Daniel Ricciardo believes he can stay ahead of Red Bull Formula 1 drivers Pierre Gasly and Max Verstappen in the Canadian Grand Prix after qualifying fourth.
The second-row starting spot is the best Ricciardo has achieved since joining Renault from Red Bull, eclipsing the sixth place he earned in Monaco a fortnight ago.
Ricciardo, who will start on soft tyres while those ahead are on mediums, will line up one place ahead of Gasly, while Verstappen has moved up to ninth after penalties for Carlos Sainz Jr and Kevin Magnussen.
"I think I have a chance for sure, I don't know what their long runs were like," he said of staying ahead of the Red Bulls.
"If we have good race pace, even for our level, I think we can. You can overtake, but it's not the easiest track to overtake.
"If I can hold good pace and keep my tyres healthy throughout the stints we have a chance to still remain in the top five.
"I'm sure after a few laps the mediums will start to build and build and the soft is going to fade, but that's where we need to be smart and pit at the right time and go from there.
"I think we can be in the mix for the first part of the race. I know Gasly's got the soft as well, alongside me, but then [sixth-place starter Valtteri] Bottas is medium.
"The start will be fun."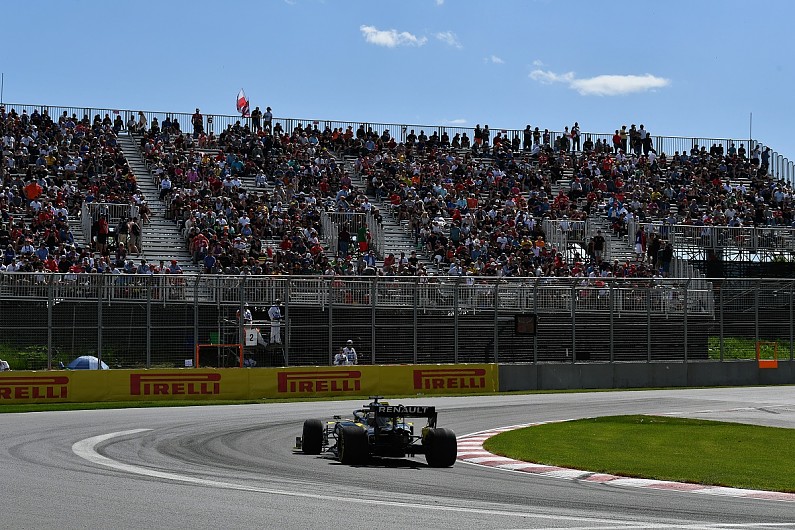 Ricciardo said he had to remain composed after making an early mistake on his final lap in Q3, and admitted he did not believe such a good outcome was possible after sliding his car at the long Turn 2 right-hander.
"If you would have told me exiting Turn 2, 'You're going to be P4', I would have bet a lot of money that that was not going to happen," he said.
"The first couple of corners were't great, and out of Turn 2 I slid a bit and, compared to my lap in Q2, I was already a tenth or something slower. And I didn't feel my Q2 lap was perfect.
"Basically I stayed calm, and I knew that I could put together a good lap.
"From Turn 2 onwards my lap was clean, I was pretty happy with it.
"I did what I needed to do, and it was fun, a few close encounters with a few walls! The first couple of corners, throw them away, and the rest of the lap was strong.
"Street circuits, they tempt you to be a little bit crazy, and they tempt you to drive outside your limits."