Ferrari's Sebastian Vettel claimed his first pole position of the 2019 Formula 1 season in qualifying for the Canadian Grand Prix.
Vettel was second fastest after the first runs in Q3, but put in a superb lap to jump Mercedes driver Lewis Hamilton and take top spot by 0.206 seconds.
Hamilton did improve on his second run, but only by 0.047s - which was more than enough to ensure he retained a front row starting position.
Charles Leclerc, in the second Ferrari, had a slow run in the final sector on his last lap and ended up almost four tenths slower than Hamilton in third place.
He faces an investigation after the session for rejoining the track at the Turn 8/9 chicane by driving on the wrong side of the marker bollard earlier in qualifying.
All of the top three will start on medium-compound Pirellis having used that tyre spec in Q2, as will the Mercedes of Valtteri Bottas.
Renault driver Daniel Ricciardo claimed a superb fourth on the grid, pipping Red Bull driver Pierre Gasly by just 0.008s.
Bottas abandoned his first run in Q3 after spinning exiting Turn 2 and had a difficult lap on his second set of tyres.
He suffered several lock-ups and ended up down in sixth, 0.861s off the pace.
Nico Hulkenberg, in the second Renault, was seventh ahead of McLaren duo Lando Norris and Carlos Sainz Jr.
Sainz was 2.1s slower than Norris after aborting his final lap having had to run on a used set of softs to set his time on the first run.
Sainz will be investigated after the session for impeding Toro Rosso driver Alex Albon in Turn 2 during Q1.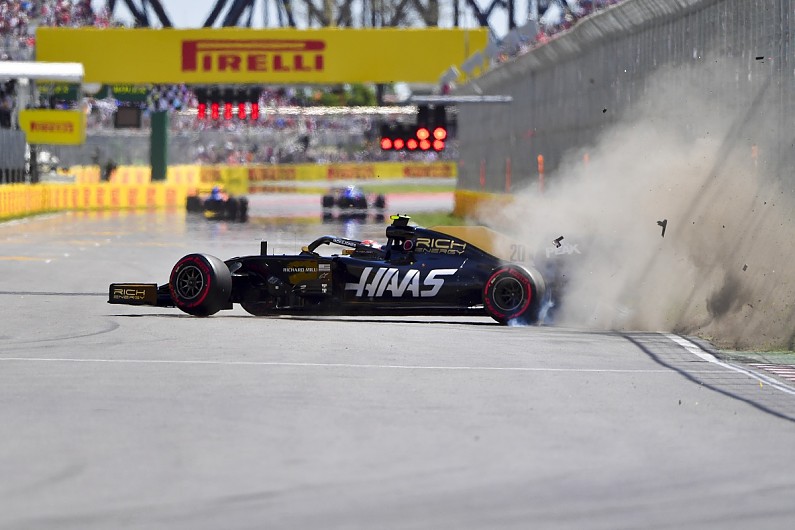 Kevin Magnussen was 10th but unable to participate in Q3 after crashing coming out of the final corner on his final push lap in Q2 and bringing a premature end to the session.
The Haas driver lost the rear out of the final part of the chicane and tagged the wall before spinning heavily into the pitwall on the inside of the track.
Magnussen's crash led to the elimination of Red Bull driver Max Verstappen in Q2 in 11th place.
Verstappen was on a lap on soft Pirellis at the time that would have got him comfortably into the top 10 shootout.
He had used mediums for his first run in Q2 in the hope of being able to start on the more durable tyre, but didn't hook up a strong enough lap and complained about traffic, forcing him to go again.
Toro Rosso driver Daniil Kvyat only had one set of fresh softs for Q2, putting in a lap good enough for 12th and beating Alfa Romeo driver Antonio Giovinazzi.
Albon, in the second Toro Rosso, was 14th fastest ahead of the second Haas of Romain Grosjean and suggested his tyre preparation was compromised by having to rush out at the start of his final run after being delayed by the weighbridge.
Grosjean did not set a time in Q2 thanks to only having one set of fresh softs and then being caught out by Magnussen's crash ahead of him on his quick lap.
Racing Point driver Sergio Perez didn't improve by enough as he took the chequered flag in Q1 to escape the dropzone.
He jumped up to 16th place, 0.033s faster than Alfa Romeo driver Kimi Raikkonen - who had been bumped by team-mate Giovinazzi a few seconds earlier.
Lance Stroll continued his run of Q1 exits in 18th place, although he switched to his early-season engine after suffering a failure of his new 'Phase 2' Mercedes in Saturday's practice session and lapped just 0.069s slower than team-mate Perez.
The only spare version of the Phase 2 engine is on hand for any Mercedes-engined team to use but there was not sufficient time to put it into the right specification for Racing Point before qualifying.
As usual, the Williams drivers battled it out for last place with George Russell 19th and 1.351s behind Stroll.
Robert Kubica was last after lapping 0.776s slower than his team-mate.
Provisional starting grid

| Pos | Driver | Car | Time | Gap |
| --- | --- | --- | --- | --- |
| 1 | Sebastian Vettel | Ferrari | 1m10.240s | - |
| 2 | Lewis Hamilton | Mercedes | 1m10.446s | 0.206s |
| 3 | Charles Leclerc | Ferrari | 1m10.920s | 0.680s |
| 4 | Daniel Ricciardo | Renault | 1m11.071s | 0.831s |
| 5 | Pierre Gasly | Red Bull/Honda | 1m11.079s | 0.839s |
| 6 | Valtteri Bottas | Mercedes | 1m11.101s | 0.861s |
| 7 | Nico Hulkenberg | Renault | 1m11.324s | 1.084s |
| 8 | Lando Norris | McLaren/Renault | 1m11.863s | 1.623s |
| 9 | Max Verstappen | Red Bull/Honda | 1m11.800s | 1.560s |
| 10 | Daniil Kvyat | Toro Rosso/Honda | 1m11.921s | 1.681s |
| 11 | Carlos Sainz Jr. | McLaren/Renault | 1m13.981s | - |
| 12 | Antonio Giovinazzi | Alfa Romeo/Ferrari | 1m12.136s | - |
| 13 | Alexander Albon | Toro Rosso/Honda | 1m12.193s | - |
| 14 | Romain Grosjean | Haas/Ferrari | - | - |
| 15 | Sergio Perez | Racing Point/Mercedes | 1m12.197s | - |
| 16 | Kimi Raikkonen | Alfa Romeo/Ferrari | 1m12.230s | - |
| 17 | Lance Stroll | Racing Point/Mercedes | 1m12.266s | - |
| 18 | George Russell | Williams/Mercedes | 1m13.617s | - |
| 19 | Robert Kubica | Williams/Mercedes | 1m14.393s | - |
| 20 | Kevin Magnussen | Haas/Ferrari | - | - |