Mercedes will keep the red three-pointed star on its Formula 1 car's engine cover and facsimile Niki Lauda autograph on the nose permanently.
Those livery tweaks and a red halo were adopted for the Monaco Grand Prix weekend in tribute to the team's non-executive chairman Lauda after his death earlier this week.
While the halo colour change is temporary, Mercedes motorsport chief Toto Wolff said the other Lauda touches would stay.
"I'm really happy how we started off this weekend with the red halo, and the little star - which is going to stay on the car forever - and the signature. It was nicely done," he said when asked about the livery changes by Autosport.
"So beyond that, unless we find something which we really believe is worth Niki Lauda, then this is what we're doing."
Wolff said Lewis Hamilton's emotional reaction after clinching pole in Monaco reflected the impact the loss of Lauda has had on the world champion.
Hamilton snatched pole from team-mate Valtteri Bottas on his final run in Q3 after a disappointing first run had left him second.
After alighting from the car Hamilton celebrated in style, even trying to climb a fence.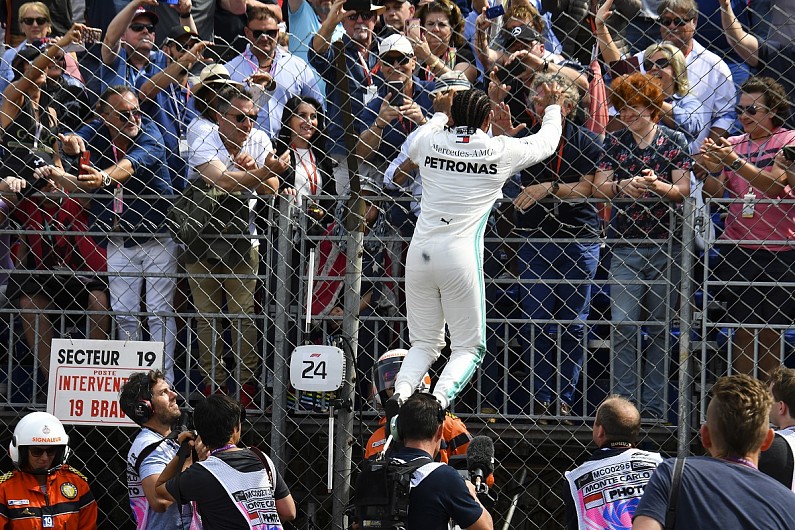 He was in an upbeat and expansive mood when he later met the media for the first time this week, having opted out of commitments on Wednesday in the immediate aftermath of Lauda's death.
"Lewis and Niki had a special bond," said Wolff. "And the bond was not only being in the same team, but also being world champions.
"Because they were close, it was difficult for him.
"Doing such a lap and putting it all together, his happiness about the performance and then with the emotions around Niki, it looks like it all came out."
A minute's silence organised by the FIA and F1 will be held for Lauda on the grid on Sunday, and people will be invited to wear red caps in his honour.
Monaco was the 59th pole that Hamilton has achieved with Mercedes, breaking the record of 58 poles earned with a single team - previously held by Michael Schumacher and Ferrari.
"I find it really amazing that after so many years we are still able to break some of the records," said Wolff.
"Complacency is a topic in any sports team, there are not many out there that have been able to maintain top performance over many years and stay motivated.
"So to beat those records is something that makes me very proud, very proud for the team.
"But as Niki would say it's all not worth anything if you don't win the championship."