A South African Grand Prix at Kyalami could rejoin the Formula 1 calendar amid interest from championship bosses and a desire from the redeveloped circuit to host F1 again.
South Africa has not been part of the F1 calendar since 1993, the last of Kyalami's 20 F1 races.
Kyalami hosted the FIA Sportscar finale three years in a row from 1998 to 2000, and A1 Grand Prix in 2009 (pictured below), but slipped into decline before being auctioned and purchased by Toby Venter, CEO of Porsche South Africa, in 2014.
The circuit has been substantially redeveloped to FIA Grade 2 standard and last week F1 commercial boss Sean Bratches referenced it while confirming "very productive conversations" about hosting a race in South Africa after 2020.
Autosport understands that Venter's company, which also imports Bentleys and Lamborghinis, is not interested in promoting a grand prix itself.
However, it is keen to facilitate the return of F1 to Kyalami should an independent organiser raise the funds to make it happen, which has been rumoured.
A spokesperson for Porsche SA told Autosport: "We support all efforts and remain committed to hosting a Formula 1 Grand Prix at Kyalami."
The new Kyalami circuit still runs anti-clockwise as it did when F1 returned in 1992 after a seven-year absence. It has a sequence of corners from Sunset, a fast right-hander, through to the Esses that formed part of the original layout.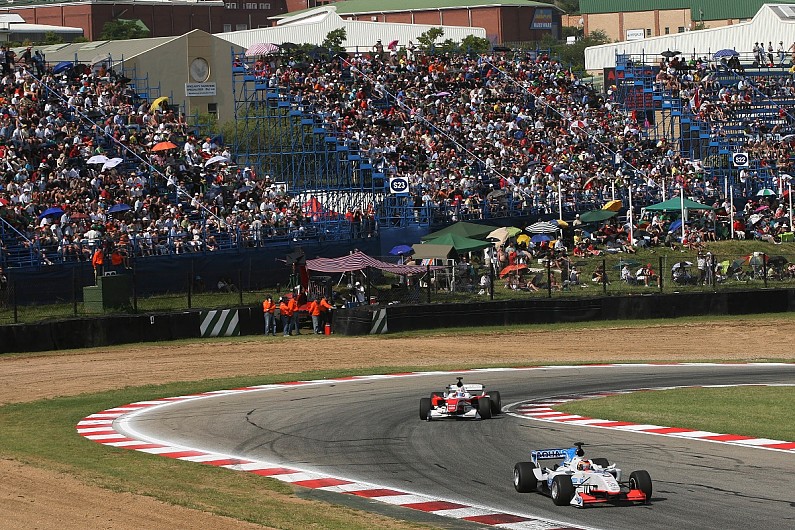 Group property manager Andrew Baldwin, who oversaw the redevelopment, said trying to "to replicate the original Kyalami" was also behind a decision to extend the start-finish straight.
Baldwin said that staff at Porsche in Johannesburg were "buzzing" after Bratches referenced the prospect of F1 returning to South Africa.
"There are always entrepreneurial people trying to put deals together," he told Autosport.
"We've just had general elections, the country's facing all kinds of issues - the question is if there's a desire.
"You know the model, governments have to have some kind of involvement to make a grand prix happen."
Kyalami will become an international motor racing circuit again later this year when it hosts the Intercontinental GT Challenge season finale on November 23. Further investment is required before that race, such as timing loops and additional lighting.
"I can't say much about Formula 1," Baldwin said.
"In simple terms [of making the circuit eligible for F1] it's really a fairly major investment in Tecpro, plus a modification to increase the run-off physically at the end of the long straight.
"The basic layout, facilities are all great for Formula 1. We're ready for that.
"It's just an extra sum of money to push you over the finish line for Grade 1."
The redevelopment of the circuit, which includes major car proving-ground facilities, was completed without the need for a headline event like a grand prix.
"We'd love to see it," said Baldwin.
"It was a dream of course, but we didn't base it on that."