Lewis Hamilton became only the second Formula 1 winner to score 26 points as he added fastest lap to his Spanish Grand Prix race victory.
But before the late safety car at Barcelona, he had resigned himself to missing out on it.
Hamilton has downplayed the significance of chasing the new bonus point, especially because drivers further down the order can claim it by pitting late for new tyres provided they still finish in the top 10.
While race winner Valtteri Bottas took the point in Australia, in the next three races it was earned by drivers who pitted without penalty because of the gap to the car behind - a strategy adopted twice by Charles Leclerc, and once by Pierre Gasly.
In Spain the safety car not only gave Hamilton new tyres late in the race, it also bunched up the field - ensuring that other top 10 drivers could not afford to pit for fresh rubber in the last few laps.
At the restart Hamilton was able to combine the usual effort to pull clear of his immediate pursuer - in this case Bottas - with putting fastest lap beyond the reach of his rivals.
Prior to the safety car, Sebastian Vettel held fastest lap thanks to a 1m20.065s just after his second pitstop.
Once the green flag flew at the start of lap 53 Hamilton immediately set a new fastest lap time of 1m19.850s, which he followed with 1m18.492s next time around.
On the next lap Bottas countered with a 1m18.737s, which wasn't enough to claim the point back.
"I knew going into the race that we were targeting a one-stop," said Hamilton when asked about his fastest lap pursuit by Autosport.
"And if I'd come out from my pitstop and I'd pushed for a lap it would have been something like two seconds slower than someone at the end of the race doing an extra stop. So it was pointless pushing then.
"Then the safety car came out and that created a new window."
Hamilton's push for fastest lap took him five seconds clear of Bottas in just two laps.
The champion said he was focused on "getting the gap between myself and him, because naturally the safety car creates a new opportunity to make mistakes, for Valtteri to get up close, and tow me" as well as grabbing the bonus point.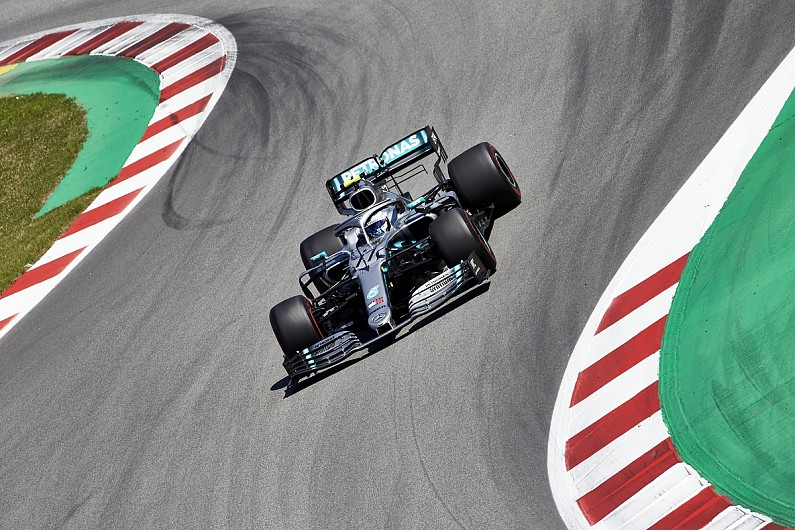 Bottas admitted that he had tried to claim the point when the track went green, but he lost the benefit of fresh rubber before he could do it.
"The first lap of the restart I tried to see if there was any opportunity for me to get him," he explained.
"There wasn't so the next lap I went to charging mode on the battery so I could fully charge it and try the lap after, but I felt I already lost the edge of the new tyre, so Lewis already had it one lap earlier so he got it.
"Obviously, for me being right behind him it's quite impossible in the same car to have a quicker lap time.
"He got it so it's fine, there's many races left."
Hamilton said Mercedes had then told him that the bonus point was basically secure.
"I was about to go for it again, but they said that I had it," he said, adding that his first fastest lap point was "definitely a bonus on top of everything".
Spanish GP fastest laps

| Pos | Driver | Car | Time | Lap |
| --- | --- | --- | --- | --- |
| 1 | Lewis Hamilton | Mercedes | 1m18.492s | 54 |
| 2 | Valtteri Bottas | Mercedes | 1m18.737s | 55 |
| 3 | Max Verstappen | Red Bull/Honda | 1m19.769s | 57 |
| 4 | Sebastian Vettel | Ferrari | 1m19.820s | 64 |
| 5 | Charles Leclerc | Ferrari | 1m20.002s | 57 |
| 6 | Pierre Gasly | Red Bull/Honda | 1m20.536s | 57 |
| 7 | Daniel Ricciardo | Renault | 1m20.615s | 56 |
| 8 | Daniil Kvyat | Toro Rosso/Honda | 1m20.726s | 64 |
| 9 | Kevin Magnussen | Haas/Ferrari | 1m20.770s | 66 |
| 10 | Carlos Sainz Jr. | McLaren/Renault | 1m20.859s | 59 |
| 11 | Alexander Albon | Toro Rosso/Honda | 1m21.028s | 65 |
| 12 | Romain Grosjean | Haas/Ferrari | 1m21.057s | 64 |
| 13 | Nico Hulkenberg | Renault | 1m21.282s | 65 |
| 14 | Kimi Raikkonen | Alfa Romeo/Ferrari | 1m21.382s | 66 |
| 15 | Antonio Giovinazzi | Alfa Romeo/Ferrari | 1m21.833s | 64 |
| 16 | Sergio Perez | Racing Point/Mercedes | 1m21.859s | 65 |
| 17 | George Russell | Williams/Mercedes | 1m22.382s | 64 |
| 18 | Lando Norris | McLaren/Renault | 1m22.561s | 28 |
| 19 | Robert Kubica | Williams/Mercedes | 1m23.202s | 65 |
| 20 | Lance Stroll | Racing Point/Mercedes | 1m23.226s | 28 |