Kimi Raikkonen says it would be "very unfair" to pass judgment on his Alfa Romeo Formula 1 teammate Antonio Giovinazzi on the basis of the first three races of 2019.
Giovinazzi, who is contesting his first full-time season in F1, is yet to outqualify grand prix racing veteran Raikkonen and has no points to his name - whereas the Finn has been in the top 10 in all three races so far.
But Giovinazzi is yet to enjoy a clean race weekend as an Alfa Romeo driver, as he had his Australian Grand Prix compromised by floor and front wing damage from debris, sat out much of the crucial FP2 session in Bahrain due to cooling issues and was unable to qualify in Shanghai due to a control electronics problem.
Asked by Autosport what he had made of his new teammate amid Giovinazzi's run of misfortune, Raikkonen said: "I think it's obviously not been all up to him, he's unfortunately had a lot of issues on the car.
"And obviously [he has] quite little experience, any mileage you can do, it's obviously going to help him a huge amount more than on my side, so it's been very unfortunate, but that's racing, and obviously we always try to fix things.
"He's had more issues on the practice with the reliability, small issues that are not a big issue but stop the car and then we don't get running, so it doesn't help him.
"Hopefully he gets a clean weekend and then we can judge him much easier, I think it's very unfair right now to write him off.
"I think he can do fast laps but obviously he has not that much experience, and when you miss one full session in any weekend it's going to be a nightmare to try to build back on it."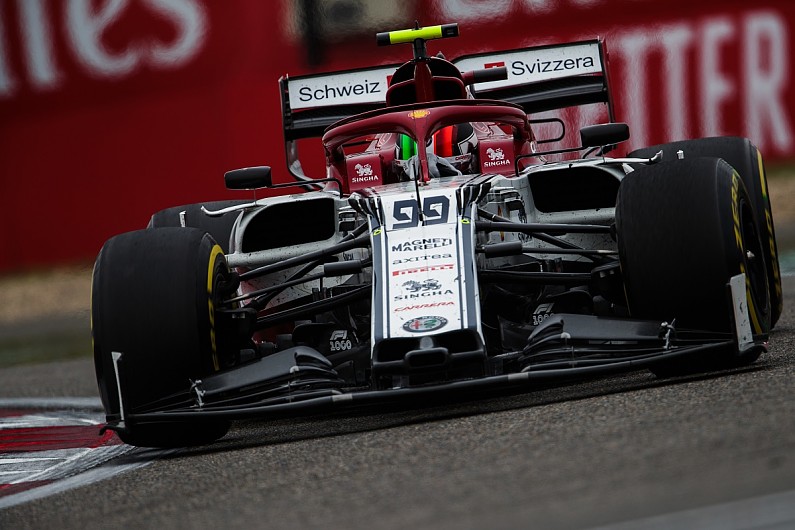 Giovinazzi was a standout fourth in the first qualifying segment in Melbourne, and trailed Raikkonen by less than a tenth in Q1 in Bahrain, where he was eliminated while the Finn advanced to Q2.
In China, team boss Frederic Vasseur admitted that Giovinazzi has not yet been given the chance to display his full potential.
"We need to be able to give him a clear weekend, and so far he didn't do the FP1, he didn't do the quali," Vasseur told Autosport.
"You can't work like this. You need mileage, you need to get confidence, but we are not helping him at all."
When asked about Vasseur's comments, Giovinazzi said in Baku: "I think we are only in the beginning of the race, we are a team, like the team is believing in me I believe in the team, and we need to just keep working and I'm sure the result will come."
Giovinazzi will serve a 10-place grid penalty for the Azerbaijan GP after Alfa Romeo had to fit a replacement control electronics on his car in China before switching it for a new-specification component for the Baku race.