Valtteri Bottas admitted he foresaw his bad start from pole in Formula 1's Chinese Grand Prix.
The Mercedes driver blamed the white line just in front of pole position at Shanghai for triggering the wheelspin that contributed to his Mercedes team-mate Lewis Hamilton snatching the lead from second on the grid.
Hamilton went on to head a Mercedes one-two and depose his team-mate from the top of the championship standings.
Bottas said he realised the white line might be problematic on the formation lap but it was too late to do anything about it.
"I guess I was a bit unlucky with that, and for sure we'll have a look at if there's anything we can do in the future when we're in a similar position," he said.
"Now if I could do it again, on the formation lap I would just light up the rear tyres and make black lines on it.
"I thought it was going to be fine because I'd never had that issue before, so on the formation lap I made the normal start practice. Then I saw it could be an issue.
"I thought maybe with warm tyres it's going to be OK, but it wasn't. That's life.
"It's not very often I get really bad starts. That's one of them and it happens."
Bottas's Chinese GP pole was his seventh in F1, and he said he was learning how much the startlines vary and what impact it can have.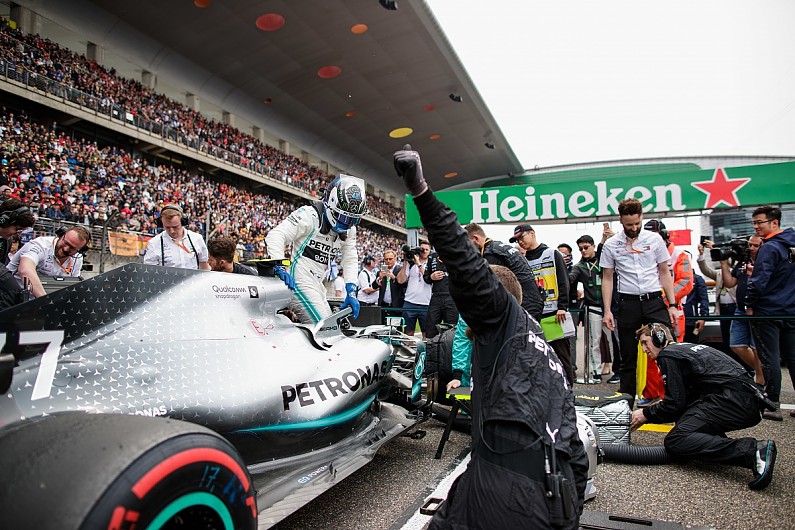 "I got wheelspin from the white line in front of my box," he said. "A couple of metres before that it was fine, then the big kick of the wheelspin and I lost a few metres of distance to Turn 1.
"I think it's only at a few tracks that it's such a thick white line. And maybe the paint changes also from one track to another.
"It's more obvious on the pole position if it's there. It definitely made an effect and there's less effect for the cars behind, because when you're on pole that's when you need the most of the traction."
Bottas felt he had little chance of getting back in front during the race once behind.
"Especially in the first stint with the medium compound, there was quite a bit of tyre overheating, so even being three or four seconds behind you're sliding more, which overheats the tyres more, and then it's more difficult," he said.
"But that's how F1 has been for a long time, so whoever is in the lead can control it a little bit and always has it easier in a way.
"So for me the race was won and lost at the start."