Mercedes Formula 1 team boss Toto Wolff says his drivers 'ignored' pre-race instructions to not chase the new bonus point for fastest lap in the Australian Grand Prix.
But he admitted that in the end he was happy that the victorious Valtteri Bottas earned the extra point awarded under the rule change for 2019.
Wolff said he made it clear on Sunday morning that he did not want Bottas or Lewis Hamilton to potentially jeopardise podium positions by going for fastest lap.
In the race, Bottas was heard on team radio discussing his quest for the extra point, while his engineer warned him that there were "games going on" with other drivers clearly trying to take it from him.
"Today in the morning meeting when we talked about strategy, I forbade them to go for the fastest lap if we were running first, second or third," said Wolff.
"They ignored me. All of them!
"I think it was a plot between the engineers and drivers, because the engineers were keen. I need to reconstruct the radio calls and how that happened.
"At the end I'm very happy. Collecting that extra point I think is good.
"It's entertaining. It's a great new part of the spectacle."
Wolff admitted that he was still nervous about it.
"I believe that it's taking risks," said Wolff.
"Especially when you're aiming for the big points, should you go for the fastest lap?
"But then maybe my reference point in keeping control of a car is my own driving and not the level of the Formula 1 drivers? I didn't like it so much."
Bottas insisted that points for a result remain the priority, but felt that his big lead gave him the opportunity to go go for fastest lap.
He acknowledged that it was not worth pitting for new tyres even when his advantage might have allowed him to.
"Obviously getting the big amount of points from the result itself is a much, much bigger priority," he said when asked by Autosport about the fastest lap bonus.
"And the second priority, the fastest lap. Once the gap to behind was decent there was enough margin to speak about that, and make a plan for that.
"I asked about a possible pitstop, but it's something that we actually spoke about before the race, that it's the first race of the season, we don't want to do silly mistakes, we want to be slightly on the conservative side with some preparations - obviously still racing hard and being the best we can, but we need to make sure we do get the best points.
"That's why we didn't stop in the end, because stopping again is always one more risk, whether at the same time there's a safety car, or an issue with the pitstop.
"I just decided in the last few laps, even though I was in traffic, to try to find a bit of a gap.
"I was pulling back, with some cars behind, I went to some other engine modes, and went for a quick lap. I'm glad I got it, so it's obviously one point more."
Bottas expects fastest lap to add to the show this year.
"I think it will. Still I think always it's going to be second priority to the position you finish the race, but there's a possibility for sure," he said.
"Everyone is keen to take one extra point."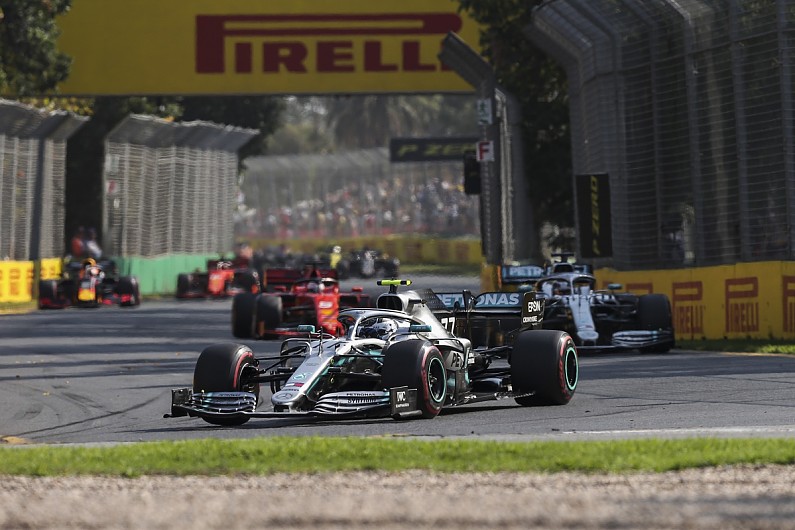 The quest for the new point: How Melbourne fastest lap battle unfolded
Bottas was clearly the quickest man for the majority of the Australian GP, setting new fastest laps on five occasions in the first 13 laps - by which time it stood at 1m28.626s.
Team-mate Hamilton snatched it from him by just 0.010s that same lap, before Bottas redressed the balance by a commanding margin by doing a 1m28.300s next time around and then lowering it to a 1m28.217s to complete his run of three new personal bests in as many laps.
Sebastian Vettel used his fresh tyres to grab fastest lap with a 1m27.954s on lap 16, but even on his used rubber Bottas was able to beat that with a 1m27.836s three laps later.
Bottas's push before and after his pitstop then meant three further new fastest laps culminating in a 1m27.338s.
Charles Leclerc pipped this with a 1m27.240s on fresh tyres, but only held the honour for moments before Bottas did a 1m27.235s next time through on lap 31 of the 58.
Even with a very secure lead by this point, Bottas kept lowering the bar - setting a further three new benchmarks to end up on a 1m26.739s by lap 42.
Then, as the radio chatter about fastest lap possibilities increased, Max Verstappen threw in a 1m26.540s to snatch it for Red Bull with just four laps left.
Still Bottas wasn't done, though, and he obliterated Verstappen's mark by 0.960s with a 1m25.580s on the race's penultimate lap.
Though Hamilton and Verstappen both improved on the same lap to set their best times of the race, these were 0.477s and 0.676s slower than Bottas's.
Leclerc did his best of the day on the last lap, but it was 1.346s off the top.
Vettel appeared not to engage in the push for the extra point and never improved on the mark he had set just after his pitstop.
That meant he ended up eighth in the fastest laps table, 2.374s from Bottas and behind Pierre Gasly, Daniil Kvyat and Lance Stroll.
Autosport has produced a standalone special magazine to celebrate our 70th birthday. All current print subscribers will receive a copy for free. To order your copy of the 196-page Autosport 70th Anniversary issue, please go to: autosport.com/autosport70th