Ex-McLaren driver Stoffel Vandoorne says he is enjoying Formula E following his Formula 1 exit because of the difference in camaraderie between drivers and paddock "politics".
After graduating to F1 as a GP2 champion and Formula Renault 3.5 runner-up, Vandoorne failed to make an impact over two seasons with poor machinery, and was outqualified by team-mate Fernando Alonso at every race in 2018.
He has since switched to FE with the new HWA team.
Asked if he felt he was disadvantaged being two-time world champion Alonso's team-mate in F1, Vandoorne told Autosport: "It is hard to tell. I can't change what happened and I also have no regrets of whatever happened of my time at McLaren.
"It definitely was not the best moment in my career after everything was running kind of smooth before, but I think it made me stronger.
"There were a lot of things that I didn't have in control myself as well, but it was character building and now I moved on.
"I'm in a completely different environment, which personally I've been enjoying a lot.
"It is a lot more relaxed because of the way the drivers get on with each other, the politics in the paddock."
Vandoorne is yet to score a point despite qualifying fourth and fifth for two of the three races so far.
The 26-year-old, who will dovetail his commitments with some Mercedes F1 simulator work, hopes his move to HWA could facilitate a "long-term" future in FE.
"F1 is so unpredictable," he said.
"When you look at the driver's market what happened last year was so unpredictable, no one really thought that this was going to happen.
"Some people are there that we thought weren't gonna be there, some people are not there that we thought that were gonna be there.
"I'm not desperately dying to get back to F1."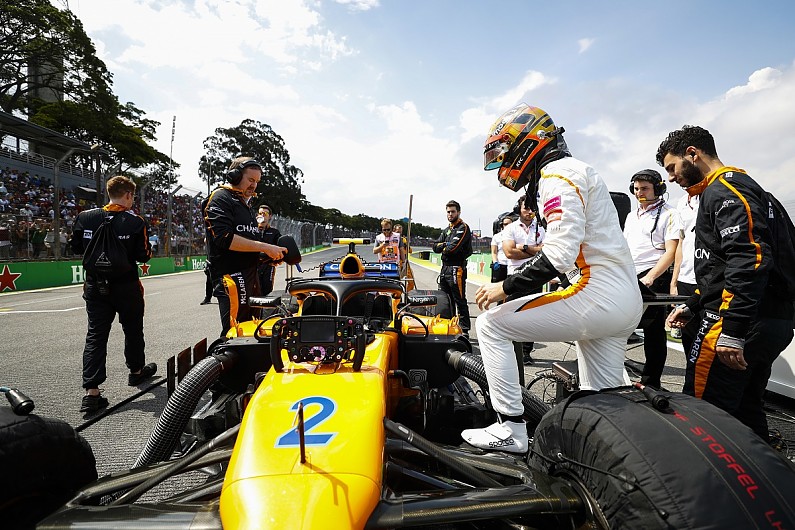 Autosport says
Scott Mitchell, F1 reporter
It's no surprise to hear Stoffel Vandoorne has warmed to Formula E quickly.
While FE is fiercely competitive on-track, drivers are much more relaxed off it and the paddock is a fun place to be.
Conversely, high stakes and the "politics" Vandoorne refers to can make F1 a very unfriendly domain.
F1 weekends involve four full days of official commitments that mean drivers invest a lot of time in activities away from the track and are often highly-strung.
In FE, there is just one day of 'miscellaneous' work. It includes a group media pen instead of independently-organised sessions and it's not uncommon for drivers to undertake promotional activities together and generally just interact more.
Vandoorne is not the first to fail to make a big impact in F1 and try to forge a new reputation in FE, and he will not be the last.
But it's great to see FE is already offering him something equally valuable: some happiness in going racing after a miserable spell in an often cold part of the sport.