Toto Wolff reckons Michael Schumacher's son Mick can achieve success in Formula 1, "maybe" even with Mercedes.
Seven-time world champion Schumacher raced for Mercedes in sportscars before stepping up to F1 and joined the manufacturer for his return to grand prix racing from 2010 to '12.
Mick Schumacher clinched the Formula 3 European championship this season, his first title success in car racing.
The 19-year-old is not officially affiliated with any F1 team but used Mercedes engines in F3, while another of his father's former employers - Ferrari - has also stated it would like to work with the younger Schumacher.
Schumacher, whose father has not been seen in public since a skiing accident in late 2013, will step up to Formula 2 next season.
When asked about whether Mercedes was interested in making Schumacher part of its young-driver programme at the FIA's end-of-season prizegiving in St Petersburg on Friday, Wolff said he was an "exciting young man".
"He's won the Formula 3 championship this year with Mercedes engines, which is great, but he's not part of the Mercedes-Benz junior programme," said Wolff.
"The most important [thing] is to give him time. He has this incredible legacy of having a father who was the most successful racing driver of all-time.
"He's won F3, ticked the box, now he's going into F2, which should be very difficult again against many experienced drivers.
"I have no doubt he has the potential to be a successful driver in Formula 1.
"Maybe one day with us, maybe not."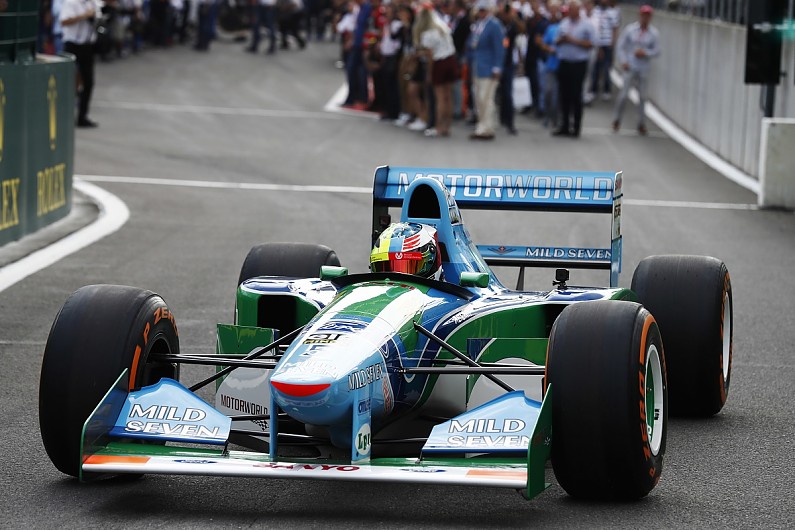 The future of Mercedes' junior programme has been uncertain since Wolff suggested the manufacturer would reconsider its validity in the current climate.
Its trio of official juniors this season comprised Esteban Ocon (who will be Mercedes' reserve driver in 2019), George Russell (F2 champion and Williams '19 signing) and Pascal Wehrlein, who will leave the programme at the end of the year.
Wolff said earlier in 2018 that question marks over the future of Mercedes' drivers, particularly as they were being restricted by their affiliation to the manufacturer, meant the future of the programme was up for discussion.
But in Russia he hinted that supporting future talent would continue because it is "very important for Mercedes to play a role" with young drivers.
"Michael Schumacher started as a Mercedes young driver in sportscars and became the best of all-time," said Wolff.
"In the same way, today, we're looking at very young drivers like we did in the past, with Pascal Werhlein, Esteban Ocon and George Russell and we hope to see these kids graduate successfully into Formula 1 and make their own career, and hopefully one day stay in a Mercedes.
"I personally think about the enjoyment about them coming together and coaching them and mentoring them with our group.
"I think it's very important for Mercedes to play a role in the young driver programme."