Sebastian Vettel says the perception that Ferrari's Formula 1 car was dominant at times this year is wrong, and insists the team never enjoyed the advantage that Mercedes often has.
Vettel's hopes of landing this year's world championship ended in Mexico last weekend when Lewis Hamilton's fourth-place finish secured the Briton a fifth drivers' title.
Although Ferrari has enjoyed spells in 2018 where it was quicker than Mercedes, Vettel said suggestions it did not ram home a big competitive advantage were incorrect.
"That is where I maybe have a different opinion to the rest," said Vettel in an exclusive interview with Autosport.
"It is absolutely true to say we have a very strong car, but people's perception that we had a dominant car, I don't think it was true.
"I think if you look at the results I don't see where is the dominance.
"In Spa we didn't have the pole, whatever the conditions. We got [the win] because of the way Spa is designed, with Eau Rouge being flat [-out].
"Last year we had a lack of horsepower and that's why the overtaking didn't work. This year we didn't have [that disadvantage], so I was able to keep the benefit from the tow and I was able to pass [polesitter Hamilton].
"But then, as a matter of fact, Lewis was always one, two, three seconds behind. He had the same pace. We were driving to the same tenth, and at some point he gave up.
"That is why we won with an eight-second gap. For me it's not a dominant race. It was a very close fight."
Vettel said there were more occasions where Mercedes was clearly ahead over the balance of the season.
"We had a lot of races that we were very close and we had very good pace in the race, but I don't think we had a race where we dominated, whereas on the other hand, I think, they had," he said.
"Look at Spain, look at France, look at Russia, I don't think we had any races like that.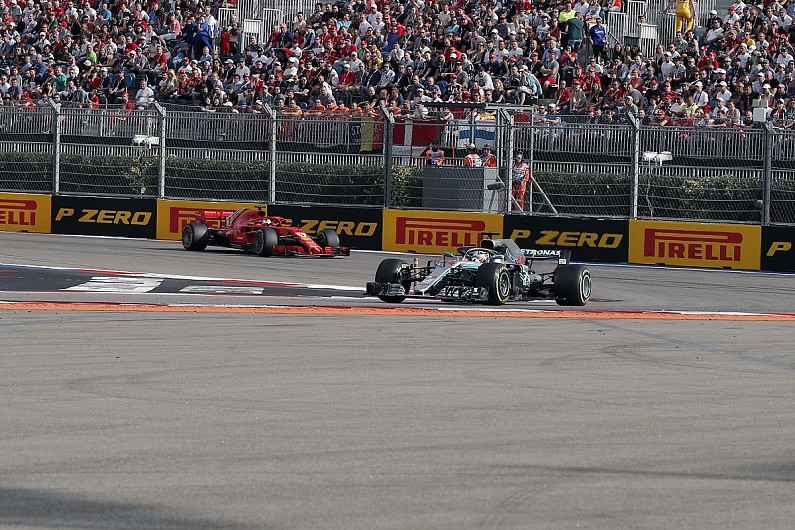 "I am not sitting here saying I had a bad car, not at all, because I know I have a strong car.
"But unlike the people's perception, I don't think we had a dominant car."
Despite a number of high-profile errors from himself and Ferrari this season, Vettel said he believes the reality that the title was slipping away became clear when Mercedes showed an obvious speed advantage in Singapore and Russia.
"Mostly we were not fast enough," he said. "At the end of the day you need to have the speed to fight for the championship.
"Last year it was apparent that we were very good until midway of the season, and then maybe [because] some tracks didn't suit us, some DNFs that we had, we lost momentum.
"But we lost momentum also because we were not fast enough.
"This year, unfortunately in some ways has been similar, that just some races we didn't have the pace compared to Mercedes.
"We were not able to get enough points, so within two-three-four races - I don't need to explain to you - there was quite a big gap.
"That has been a shame."