Lewis Hamilton believes his Italian Grand Prix victory in September was the biggest mental blow Mercedes' rival Ferrari experienced during the Formula 1 season.
Ferrari headed to its home race on the back of an important win in Belgium, and locked out the front row in qualifying at Monza.
But the team threw away its golden opportunity by allowing polesitter Kimi Raikkonen and Sebastian Vettel to race each other at the start, which gave Hamilton the chance to make a move at the second chicane.
Hamilton passed Vettel, who spun, and then set about pursuing and overtaking Kimi Raikkonen to pull off one of the unlikelier wins of 2018.

The psychological secrets of Hamilton's greatest season
That triggered a run of wins that featured further victories in Singapore, Russia and Japan that helped him secure the world championship in Mexico last weekend, and Hamilton singled out Monza as a key weekend for his title momentum.
"I would say that day was probably the biggest psychological blow for them," he said in an interview with select media including Autosport.
"They'd had a couple - Seb's psychological difficult time was when he made a personal mistake.
"When the team makes a mistake it's painful, but when you personally make a mistake as a driver, when it's in your control, that's a horrible feeling.
"So, he would have taken that to heart. Then we had that fight at Monza and that would've been a team blow for them surely."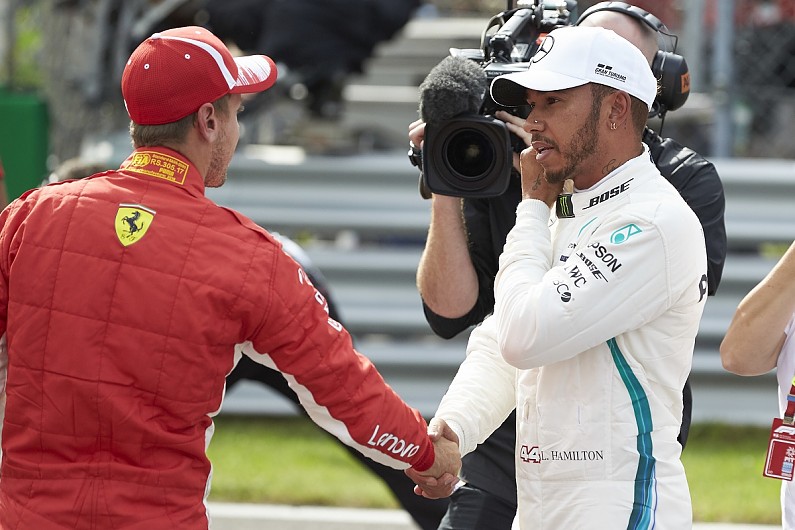 Hamilton said missing out on the front row at Monza a week after Mercedes struggled at the Belgian GP was hard to cope with.
"We'd lost the race before.. we knew we were up against it coming into Monza," he said.
"We were hopeful we might be able to out-perform [Ferrari]. Probably with a perfect lap maybe I could have qualified second.
"Actually on my side I was frustrated, pissed off with myself basically. That is just how it is. I never hold back on it.
"Saturday night was difficult, and I was thinking a lot about how aggressive I wanted to be on the Sunday.
"It is very difficult to gauge how aggressive you should be. You go too far, spin off, cause an accident and start from last. Or crash.
"Or don't do enough and you don't capitalise on the window that was there. That's always the unknown."
He added Mercedes' strength in depth helped him come out on top in the face of the strongest external competition he has faced in F1's turbo-hybrid era.
"None of us predicted the things that were going to happen," said Hamilton.
"We couldn't have predicted we were going to win in Hockenheim. No one knew we were going to win in Monza or particularly Singapore.
"Collectively we've all done an amazing job in this team.
"How we manage our sessions, depending upon whether we go out out first in qualifying or later on - which the Ferraris always do and get stuck in traffic.
"We've really listened to each other and really executed."