Sauber test driver Tatiana Calderon felt her first taste of Formula 1 was "in some ways easier" than her usual GP3 car after her debut in grand prix machinery.
Calderon had the oppportunity to drive Sauber's current-spec C37 car as part of a filming day at Mexico City on Tuesday.
She completed 23 laps across four stints, recording a best lap time of 1m23.170s.
"Obviously the heart rate was a bit high, especially when you see so many cameras and when you start the engine, but the team prepared me very well to know what I had to do at all times," said Calderon.
"It has been incredible, a dream come true.
"You cannot describe what it feels like to be in a Formula 1 car.
"The first time I accelerated, it seemed like I was on a PlayStation with how fast everything happened.
"The instruction was to take things step-by-step. I honestly did not have any physical problems, that means that the physical preparation has gone in the right direction.
"In some ways I found it easier to handle than the GP3 car. I hope I can continue to show that there is no physical disadvantage [for women].
"Now that this day has passed, I do not want to go back to my GP3 car, I want to stay here!
"Hopefully I can continue breaking barriers and achieve my dream of reaching F1."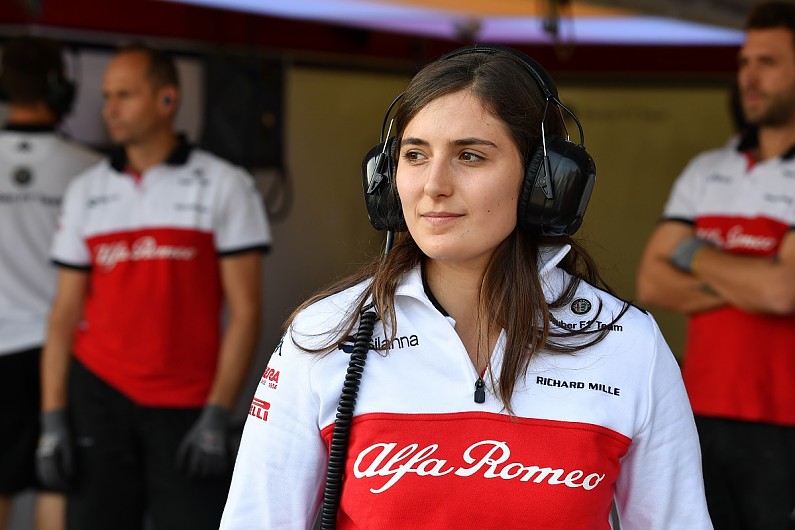 Calderon's performance during the test was praised by senior members of the Sauber team.
"The objective of the day was for her to feel the car and to improve her times," said general manager Beat Zehnder. "She did a fantastic job."
Head of trackside engineering Xevi Pujolar added: "We had a limited test with her and she has proven herself as a professional.
"She has not had a single problem and is what we expected from her."
Asked where Calderon could progress in any future F1 tests, Pujolar replied: "By getting used a bit more to the braking, and if we could do two days of practice she would improve a lot.
"But being the first time and with so few kilometres, she has been excellent.
"From a GP3 car or an F2 car to a F1 car, the braking points are very different, and especially on a track like this."