Haas Formula 1 boss Gunther Steiner has defended the team's new title sponsorship deal with drinks brand Rich Energy, insisting the outfit has done due diligence on the company.
After Rich Energy failed in attempts to buy Force India, CEO William Storey was in the Austin paddock last week and met with Steiner in the paddock on Sunday morning. He was also seen in conversation with Williams and McLaren.
Haas announced Rich Energy would become its title sponsor in 2019 on Thursday, just four days after that meeting.
Doubts about Rich's ability to fund an F1 team and the speed with which the deal came together prompted some scepticism in the paddock, but Steiner said his team had done its homework before he met Storey.
"Your due diligence you don't do with the person there, there's some other ways to do that," he said when asked by Autosport about the deal.
"We did what we need to do. We needed to do it before we met him. Why do you doubt that?
"Obviously we did what we needed to do, and our legal advisors were content with that."
The announcement also came as a surprise because owner Gene Haas has used the F1 team to promote his machine tools company, and was seemingly reluctant to take on high-profile branding from a third party.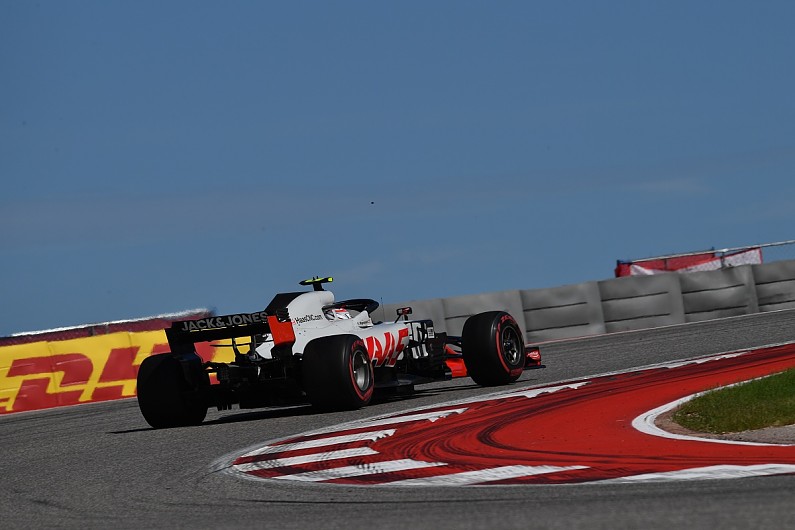 But Steiner said the time is now right for such a deal.
"I think now we are three years in, the Haas F1 name is pretty well established, I think everybody would agree to that one - everybody knows what Haas F1 is," he said.
"At the beginning it wouldn't have been, if we had another brand in it.
"For one reason or another it's well established, the Haas point.
"If a partner comes along which contributes enough that you do something together and it gives you opportunities as well, because this gives us opportunities, why not do it? I think it will help the team."
Steiner refused be drawn on whether Rich Energy's money would be "extra" funding, or would simply allow Haas to scale down his own investment, but stressed there was no plan to expand the team.
"Even if we employ more people we still work on our principle that we want to be efficient," he said.
"This is not like, we've got more money, let's go big now, let's employ 200 people, let's buy a new big building, lets buy five dynos.
"Nothing like this. We are well grounded. I think we show that our business model is working quite well.
"It's not perfect by any means, we can get better, but we want to grow it where we think we are weak.
"I know the spots where we are weak, we will grow them and make changes, but they will not be that we're going to run the old style way of having 500 people in two years."