Lewis Hamilton believes Mercedes shows its true class as the best team in Formula 1 when under pressure, as title rival Ferrari made another blunder in Japanese Grand Prix qualifying.
Hamilton secured the 80th pole position of his F1 career at Suzuka in a tricky Q3 session where changeable conditions gave teams timing and tyre choice headaches. Team-mate Valtteri Bottas completed an all-Mercedes front row.
Ferrari's wrong decision to run intermediates at the start of the session meant its drivers were not out on track when it was driest, and Hamilton's main title rival Sebastian Vettel could qualify no better than ninth.
"It is so difficult out there to make the right call, and that is another real big difference that we as a team have made this year," said Hamilton.
"Every team has smart people but ultimately when it comes to being under pressure in making the right decisions and the right calls, that is why we are the best team in the world."
Hamilton admitted he immediately doubted Ferrari had made the right call in going out on intermediates at the start of Q3.
"The Ferraris pulled out of the garage on the inters and I honestly didn't think it was the right decision," he said.
"Obviously we made the right decision as a team."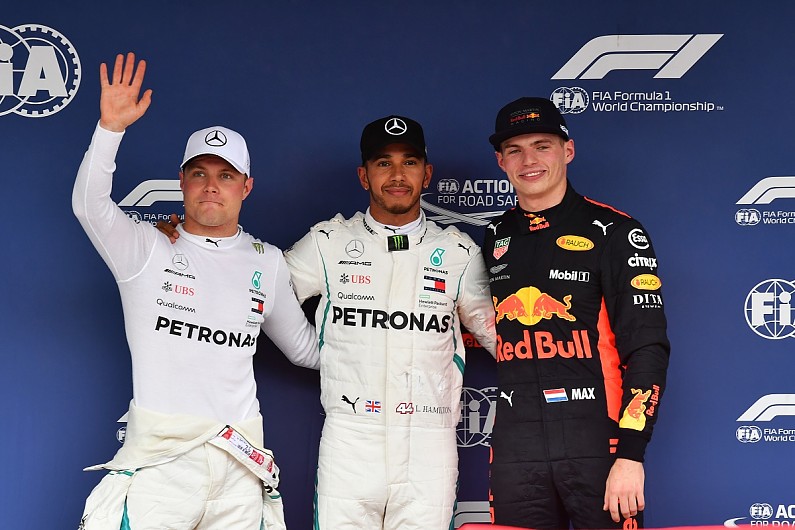 Bottas was also full of praise for how Mercedes had dealt with the pressure situation, and believed it was one of the strongest performances he had seen from the team in his two years there.
"From what I have seen, it was one of the best days as a group," he said.
"We should be really proud of what we did, with the car, and how we worked today. Every single decision was right and everyone was calm.
"It might have looked weird from the outside. It was a hectic session and so on, but it was calm inside. But we stuck to our plan and made the right choices."
Vettel managed one run on slicks between pitting to get rid of intermediates and the rain coming back, but ran off-track at Spoon.
He said that lap would have been "sort of OK" without the error.
"I had a mistake in Spoon so lost most of the time there," Vettel told Sky Sports F1.
"Obviously the second run we didn't make it out in time because the rain came and we were too late.
"Obviously it's not the position we deserve to be in. I think we have better speed than ninth but we'll start there and see how it goes. Anything can happen tomorrow. Tomorrow is a new day."