Lewis Hamilton says he is surprised Ferrari has not openly imposed team orders in 2018, after Mercedes switched him with Valtteri Bottas in Formula 1's Russian Grand Prix.
Bottas was moved aside in order to protect Hamilton's title hopes, increasing the British driver's championship lead to 50 points over Ferrari's Sebastian Vettel ahead of the Japanese Grand Prix.
Mercedes boss Toto Wolff defended the strategy after Hamilton admitted to feeling uneasy about the Russian GP team order, and Vettel called the decision a "no-brainer".
Where has Ferrari's pace gone?
Hamilton has queried why Ferrari has not used team orders in 2018, pointing to the Italian GP in which Kimi Raikkonen started on pole and Vettel's failed pass for the lead led to contact with Hamilton and damage to the German's title hopes.
"We've only had team orders in one race, but we have worked as a team in others," said Hamilton.
"So there have been times when Valtteri hasn't be in the top five and there has been a Ferrari, me and a Ferrari - and the Ferraris have worked together.
"The way they will do that is that they will stop one car, which means that I will have to stop.
"So they will work as a team in certain parts of the year.
"But in crucial points like in Monza they haven't. And is that a surprise? Yeah.
"They have done that in the past, so why they have changed I don't know. But it is not my problem."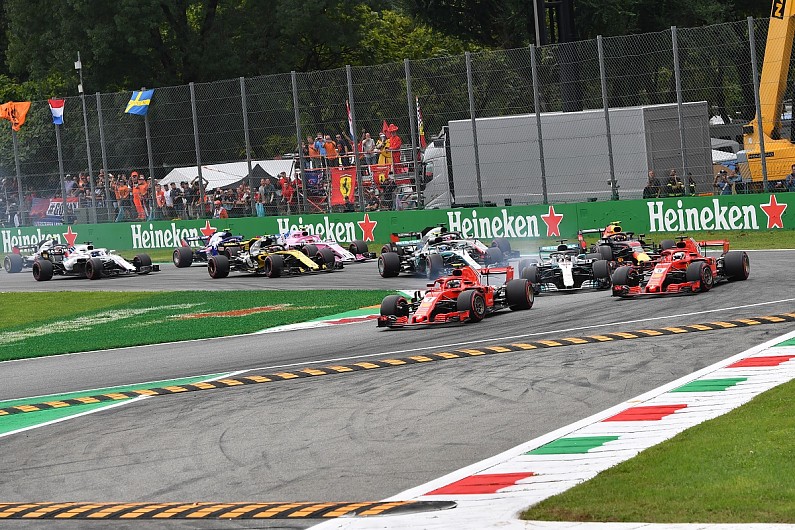 Hamilton admits to conflicted feelings about team orders.
"I don't think you get your mind around it," he said.
"You have to accept it and move forwards, and I am definitely split, just like all the people have split opinions about it.
"On one side I feel one way about it, and on the other side I feel another way about it.
"But it has happened, it is done and dusted.
"But collectively as a team we've stayed quite united through the whole experience."
His team-mate Bottas, who was visibly irked at handing over a likely Russian GP victory to Hamilton, said he understands the use of team orders.
"I just need to accept it," he said "It is now the situation because of everything that has happened earlier in the season.
"I can't fight anymore for the championship. I am a team player so I am willing to help.
"I like nothing more than winning races and fighting for the championship and that's what I want to do.
"We are a strong team and we do want to win both of the titles, and we need to work as a team if we want to do that."
Asked whether he had to accept not taking victories until the title was decided, Bottas said: "No it's not like that.
"I think definitely I am still allowed to win, [but] it will depend on the situation."
Hamilton added he does not "arrive here [in Japan] thinking that Valtteri has to work for me" in his title bid.