Red Bull Formula 1 boss Christian Horner says Max Verstappen's early Russian Grand Prix charge was like watching the start of a wet race, such was his rate of progress.
From 19th on the grid, Verstappen made up six places on the first lap and by lap eight had cleared the midfield cars to run fifth.
That allowed Verstappen to take the lead when the frontrunners made their pitstops, and the Red Bull driver went on to lead 24 laps - more than any other driver - before his own late stop to swap the soft compound for ultrasofts dropped him back to fifth.
"They were mega," Horner said of Verstappen's early laps. "It's his 21st birthday and he drove like a veteran.
"By the time he got to lap eight he's in P5. That was one of the most outstanding first few laps we've seen for a long time.
"There's always risks, but he was very assertive, and it looked like the start of a wet race at the start of the grand prix, the way he was able to pass cars inside, outside, and very, very quickly and efficiently.
"He's driven some great races, but this was an attacking race. He then led from lap 14 all the way to lap 42.
"He was able to manage the tyres extremely well. It was just a shame we had to stop."
Asked if Verstappen could have stayed out longer, Horner said: "We toyed with the idea but he was at the limit of wear, he was reporting that the tyres were starting to go away.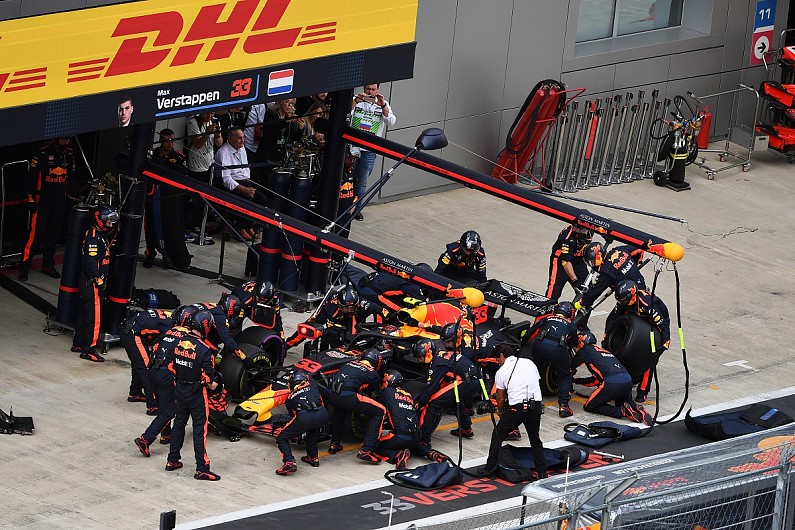 "With that [soft] compound they can drop very suddenly. We felt we'll take the stop [and] if there's a safety car in the last 10 laps, we're in a really strong position.
"That would have been the only realistic chance. If it had grouped the field up in the last 15% of the race then there might have been a chance on the grippier tyre.
"Unfortunately that wasn't to be."
Horner believes Verstappen and team-mate Daniel Ricciardo, who finished sixth, might have given the Ferraris a hard time had they not started at the back owing to engine change penalties, but conceded Mercedes was probably out of reach.
"To win the race would have been very tough today," said Horner. "We could have challenged Ferrari harder.
"We might have been able to have a go at them in qualifying and we had a fast race car today.
"I think we'd have been putting a lot more pressure on them."