Sebastian Vettel says he will be sad not to have Kimi Raikkonen as his Ferrari Formula 1 team-mate next year, because they have a relationship based on "zero bull****".
Raikkonen has driven for Ferrari since 2014, racing alongside Vettel for the past four seasons, but will move to Sauber after Ferrari decided to promote protege Charles Leclerc to a race seat for 2019.
Vettel and Raikkonen were friends before they became team-mates at Ferrari, and frequently travel to races together.
"Yeah, absolutely," said Vettel, when asked if Raikkonen was the best team-mate he had worked with.
"Obviously one thing you can express in numbers and results and so on, but I think that's not the most important thing.
"I think the most important thing if you are team-mates is the respect that you have for each other, or the degree of bullshit going on between each other, and with Kimi it has been zero from the start, and I don't think it will change until the end.
"It's a great chance for Charles, but also it's sad to know that Kimi is not there anymore because I think we get along even though we are different.
"We have this mutual respect for each other."
Asked if the dynamic in the team will change, Vettel said he had not given the subject any thought.
"Obviously it's always a change, but to be honest right now nothing changes," he said.
"I'm more focused on the next races rather than next year.
"It's a great opportunity for him. He's been in the junior programme of the team for a long time, so it's good to see there's progression.
"I'm not thinking about that at all, so I have no thoughts.
"Everybody is different, so for sure there will be a different dynamic and so on, but I think he's a good kid and I hope he integrates well. I'm sure everybody is willing to help."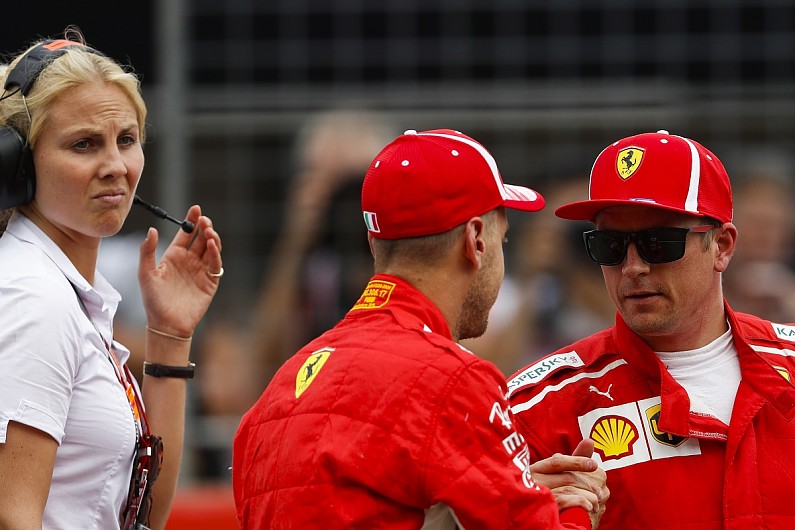 When asked if taking a youngster was the right decision for Ferrari, Vettel downplayed the importance of age.
"If you are fast and talented then the age doesn't matter," said Vettel.
"You can be fast and talented also when you are old on paper. Kimi is probably the best example, so you have two good examples.
"He [Leclerc] deserves to be in F1, and as I said before it's great that he gets the opportunity to race in a big team, and then we'll see.
"We'll do our best to work on him, we want to work together as a team. But for now it's not that important, it's more important for next year."
Vettel admitted he has had no contact with Leclerc since the announcement: "It's correct. I don't have his number, but in these days I'm sure he was very busy anyway.
"If I get to see him then I'm sure that I'll find the right words. "By the sound of it we'll have enough time to exchange our phone numbers in the future."