The FIA plans to inspect the Ferrari Formula 1 team's latest camera device to check that it has not been designed in a way that would block onboard television views.
Ferrari has caused ongoing intrigue among fans and rival teams for having previously used a cooling bag to try to cover up its onboard camera.
While the team claimed it was being placed on top of the camera to cool electronics, the suspicion was that it was really being used to block the onboard lens and stop rival teams from being able to watch the team's steering wheel settings.
Ahead of the Italian Grand Prix, the FIA told Ferrari to stop using the camera bag with immediate effect. In response, Ferrari used umbrellas on the grid to hide the steering wheel.
In Singapore last weekend, Ferrari raised some eyebrows with an all-new airbox cooling device that had been designed in such a way that ducts running off the side of it blocked the camera view down into the cockpit.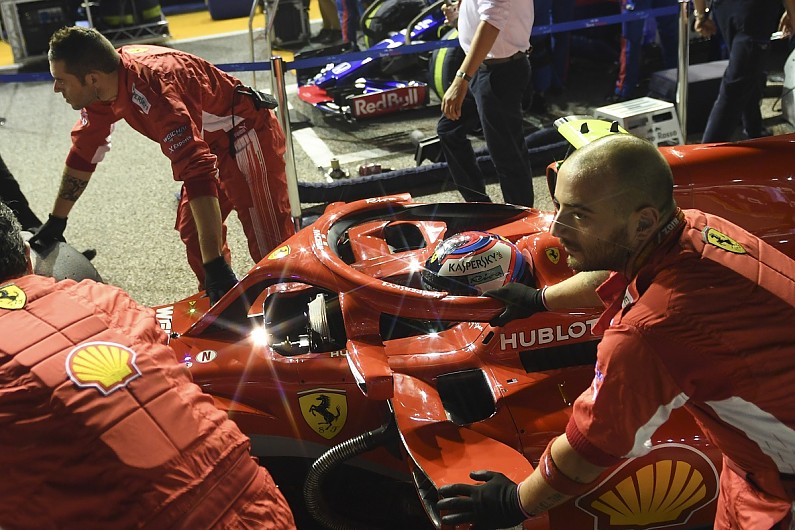 F1 race director Charlie Whiting said he had looked at the new system when it was off the car and could see no problem - but would have another check when it was fitted to see if it did block any view.
"As long as it doesn't block the camera view we don't mind, and we don't mind if FOM don't mind," said Whiting.
"If they're cooling the OCU [onboard camera unit], which is the unit on top where the camera is, and it's OK with them [FOM], then it's OK with us as long as it doesn't block the camera view."
Whiting said his early analysis of the Ferrari device was that it did not block the camera, but he admitted he had only seen it when it was not in place.
"I went to see it at Ferrari and it wasn't even on the cars," he said. "This was about an hour after a free practice session.
"Apparently they put it into the airbox and the primary thing is to blow cold air into the airbox and to various other places that are fed by those big ducts there.
"They've got some secondary ducts, it would seem, that just blow a bit of air onto the OCU. But our guys said they are not concerned with it."
Asked by Autosport if he would have a further look to check the camera was not being blocked, Whiting said: "I will, but it's not top priority, frankly speaking.
"We've got to be fair. They're all playing games, aren't they? We've just got to be fair."