Charlie Whiting has no issue with Max Verstappen's angry team radio comments in which he suggested Formula 1 stewards were "killing racing" after receiving an Italian Grand Prix penalty.
Verstappen was incensed to receive a five-second penalty after his late race clash with Valtteri Bottas at the first chicane, with the stewards deeming he had moved in the braking area and not left a car's width for the Mercedes driver.
After learning of the penalty from his team Verstappen said: "I gave him space. They are doing a great job of killing racing, honestly. Bullshit."
FIA F1 race director Whiting said he gives drivers the benefit of the doubt when they criticise decisions during a race, but added he may have a "little chat" with Verstappen at the next drivers' briefing in Singapore.
"I heard that secondhand," he said when asked by Autosport about Verstappen's comments.
"I don't think you can take too much notice of comments made in the heat of battle, but I'm sure at the next drivers' briefing we'll have a little chat about that.
"As I say in the heat of battle, that's absolutely expected."
Verstappen has continued to question the penalty having subsequently viewed replays of the incident.
"I've watched it back, of course, and I still don't agree with it," he told Ziggo TV.
"Maybe I could have given him a couple of more millimetres, but he was on the white line.
"But yeah, we can talk about this for a whole lot longer, it already has been decided."
Asked if the rules should be changed he said: "One steward gives a penalty, another doesn't. I don't think it's the rules."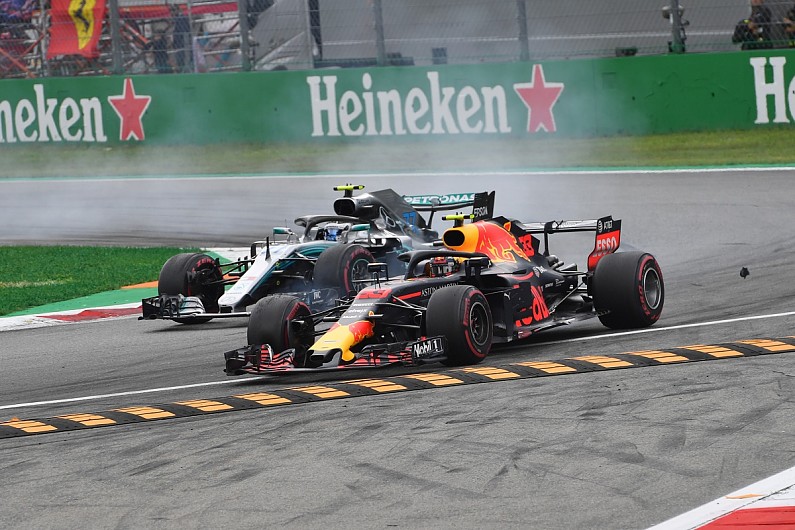 Earlier in the race Verstappen's engineer told the Dutchman that he had played his only "joker" in reference to an incident where he locked up and straight-lined the first chicane when under pressure from Bottas.
"I saw he was quite far behind me, but he braked very late," said Verstappen.
"At the last moment, when I was about to steer in, I was thinking that he might be next to me, so that's reason I locked up and then I had to go wide."
Whiting said that incident had no influence on the penalty that was given for the later tangle with Bottas at the same corner. "They were unconnected," said Whiting.
"The joker as you put it was cutting the chicane, not actually gaining a place, but staying in front by virtue of cutting the chicane. Which is an advantage of sorts.
"We told the teams that we would normally give the driver one free one, unless of course let's just say he cut the chicane the first time and gained five seconds and kept it, then we wouldn't let him have that one.
"But this one he just stayed in front of Bottas. And you could in theory do that every lap and say I didn't gain a position, but you stayed in front because you cut the chicane."