Red Bull team principal Christian Horner hopes McLaren can recover from its present "turmoil" because Formula 1 "needs McLaren to be performing" given its history.
McLaren is F1's second most successful team in terms of race wins and championships, behind only Ferrari, but has not scored a podium since the first race of 2014, has not won a race since '12, and has not won a title since 2008.
After three disastrous seasons with works Honda power, McLaren switched to Renault customer engines for 2018 but has languished well off the pace of Red Bull, which has won three races with the same engine.
McLaren scored 40 points over the first five races, but has since added only 12 more and has undertaken a major overhaul of its technical team amid serious struggles for qualifying speed and difficulty understanding why this year's car has produced less downforce than its predecessor.
Its lead driver Fernando Alonso announced earlier this week that he would leave F1 next season, though he is expected to remain affiliated with McLaren in IndyCar and left the door open for a future F1 return if the team improves.
Next season, Red Bull will take on the works Honda engines McLaren ditched at the end of 2017 as it bids to end its own championship drought stretching back to '13, and Horner believes it is important for F1 that McLaren eventually turns around its long slump.
"McLaren is a great team," Horner told Autosport, speaking before the Alonso news emerged.
"It's got huge history - it's, I think, the second most winning team in Formula 1 - so Formula 1 needs McLaren to be performing at a high level.
"They've obviously got their challenges at the moment, and obviously look in a bit of turmoil, but hopefully within time they'll manage to address that."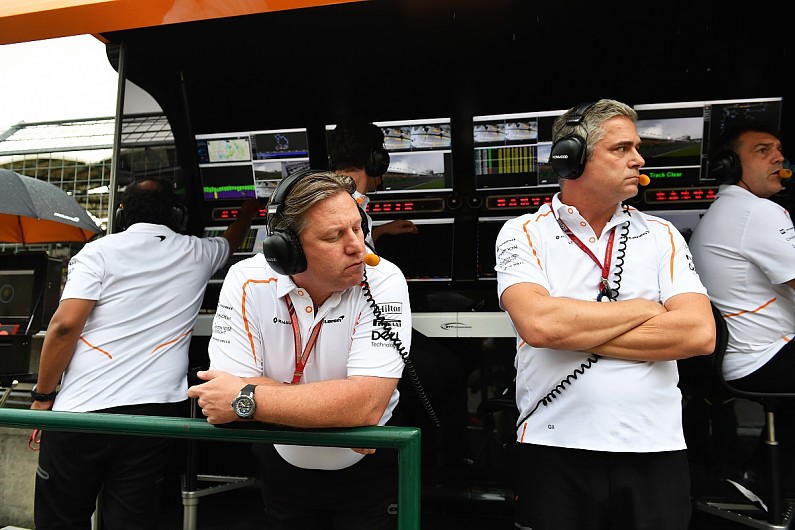 McLaren CEO Zak Brown is in the process of revamping McLaren's structure, following the departures of technical chiefs Tim Goss and Matt Morris, and the resignation of former racing director Eric Boullier.
The team has hired Gil de Ferran as sporting director, promoted Andrea Stella to performance director and is in fraught negotiations to bring in Toro Rosso's James Key as technical director. And Brown says there is more to come.
"We're not done yet, both with bringing in talent, and our final structure," Brown said. "We have a good sense of what we're going to do, but that's not something that we want to make public, we just want to put our head down, and get on with the job."
De Ferran reiterated McLaren's desire to improve internal communications and make its working processes clearer and more transparent.
"We are reorganising and bringing the team together and making sure there is more clarity, there is more openness, there is more communication," he said.
"There is a plan, and as we move forward it will become clearer to everyone."