McLaren wants Stoffel Vandoorne to beat Formula 1 team-mate Fernando Alonso more often as it weighs up whether to keep the Belgian for 2019.
The 2015 GP2 champion and 2013 Formula Renault 3.5 runner-up has struggled to make an impact in F1 since his full-season debut last year, and has eight points in his sophomore campaign compared to Alonso's 44.
Alonso is yet to confirm if he will extend his F1 career beyond this season but is poised to stay with McLaren if he does, whereas Vandoorne is under pressure to keep his seat.
McLaren has openly admitted its interest in Carlos Sainz Jr, now without a Renault drive following Daniel Ricciardo's shock move from Red Bull, and has reserve driver and Formula 2 title contender Lando Norris waiting in the wings as well.
"I wouldn't say we're disappointed by Stoffel," said McLaren CEO Zak Brown. "You'd like to see him beating his team-mate more often than he has.
"That's the same in any situation. You'd love to see your team-mates split right down the middle in beating each other every weekend.
"He's not been able to do that on a regular basis but I wouldn't say we're disappointed because last year we know we gave him a very difficult situation and this year we've not given him a very good car to work with.
"Given Fernando's talent and experience he's able to adapt to situations that aren't great.
"We all believe Stoffel's done an excellent job but we would like to see him beat Fernando more often."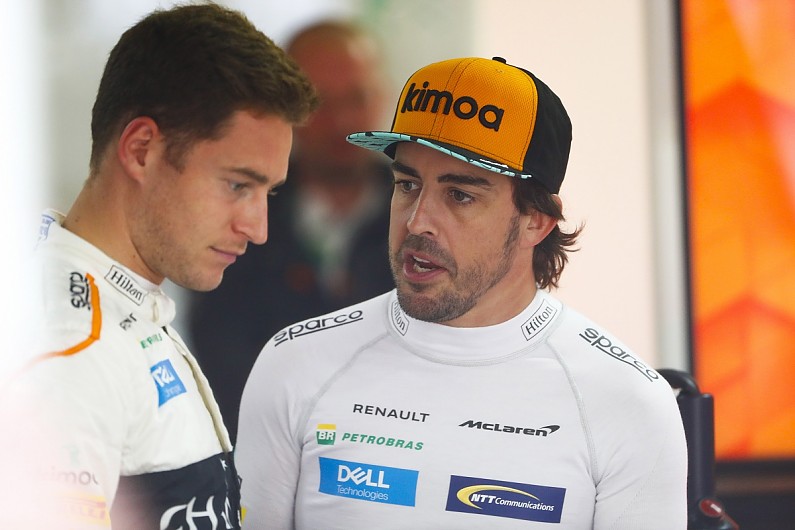 Vandoorne had a much stronger Hungarian GP prior to F1's summer break, but a gearbox problem condemned him to retirement after he had fought his way into a points-scoring position.
A windtunnel correlation problem has set McLaren back in 2018 as it grapples with a fundamental aerodynamic deficiency on its MCL33.
That has resulted in a lot of experimentation over race weekends, which McLaren sporting director Gil de Ferran said has not helped Vandoorne compared to Alonso.
"We've been trying to figure out how to progress with the car and how to address some of the balance issues that we've been having," said de Ferran.
"As a result of that, not only is the car not an easy car, but we keep changing things at a very fast pace.
"That's very difficult for both drivers to deal with. Certainly for a driver like Fernando, not only do I think that's one of his best traits, but his experience helps him a lot."