Renault says this week's Hungaroring test will be crucial in helping it address its understanding of Pirelli's Formula 1 tyres, which team boss Cyril Abiteboul says is currently "not acceptable".
Team boss Cyril Abiteboul believes Renault has been too cautious after suffering blistering in Austria, since when it has erred on the side of caution and usually favoured Pirelli's harder compounds in races.
That did not pay off in last weekend's Hungarian Grand Prix as Carlos Sainz Jr fell from fifth on the grid to ninth at the flag using a soft/medium combination, with the Spaniard losing out to a Toro Rosso, a Haas and a McLaren in the midfield battle.
His team-mate Nico Hulkenberg, who also opted for softs then mediums before taking ultrasofts later in the race, finished out of the points in 12th.
"It's a bad feeling," Abiteboul told Autosport. "Obviously the P5 we had on Saturday with Carlos doesn't reflect the car, but P9 and P12 that we had in the race also doesn't reflect where the cars should be.
"Both cars should be in the top 10, in a close match against the Haas, on a track like that. That's what we were aiming for.
"The circumstances were a bad start from Carlos that was initially very good, but he then lost two or three positions in the first few corners.
"Nico made a good start and gained a few positions, but from that point onwards we made bad decisions on tyres - although it probably started with the tyres we used for the start.
"I think overall since Austria we are way too cautious on tyres. In this race we wanted to be extremely careful. It was the wrong thing to do."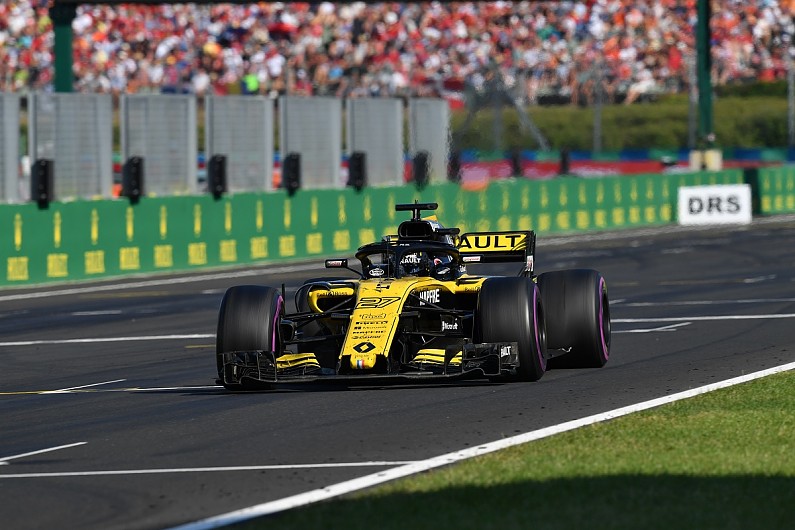 Abiteboul said the Hungary test offered the team a timely opportunity to address its issues.
"We need to come up with a better understanding of the tyres, because right now it's just not acceptable, it's not the standard we want to be [at]," he added.
"We know that we have an overall exposure to tyre degradation, wear and blistering, and we need to fix that so we gain more confidence in the car.
"There are lots of test items related to that in the coming week, for that particular topic of tyre management, but simply for understanding, because today we don't understand what we're doing with the tyres.
"In a way it's good to have such a race happening just before a test because we will be able to review what's planned and make sure we focus on that issue, because otherwise in the second part of the season where we will have again a number of tracks that could be extremely hard on tyres - Singapore, Sochi, Abu Dhabi, which can be very tough on tyres - and it will be difficult.
"We need to get up on top of that with lessons from this week."
Autosport has produced a standalone special magazine to celebrate our 70th birthday. All current print subscribers will receive a copy for free. To order your copy of the 196-page Autosport 70th Anniversary issue, please go to: autosport.com/autosport70th