Max Verstappen says Red Bull's 2018 Formula 1 car "just doesn't work" in wet conditions, having qualified a disappointing seventh for the Hungarian Grand Prix.
The young Dutchman has built up a reputation for wet-weather prowess in his F1 career so far, while Red Bull has also generally excelled in such conditions of late - as such weather puts an emphasis on downforce and negates its customary straightline speed deficit.
But at the Hungaroring - which is viewed as one of Red Bull's stronger tracks - Verstappen could do no better than seventh in wet-weather qualifying, 2.2 seconds off pole and beaten not only by the Mercedes and Ferrari cars but also a Renault and a Toro Rosso.
"The car doesn't work. I don't know what the reason is. It just doesn't work," Verstappen told Dutch broadcaster Ziggo Sport after the session.
"No grip and then there's nothing you can do in the rain.
"It hasn't been working out for us in the rain all year.
"Also at the restarts, when you have cold tyres, we never manage to find the connection, like in Baku, also in Hockenheim.
"Last year you just knew that when you went out [in the wet], it was three purple sectors and the car went like a bullet. This year it's a whole different story."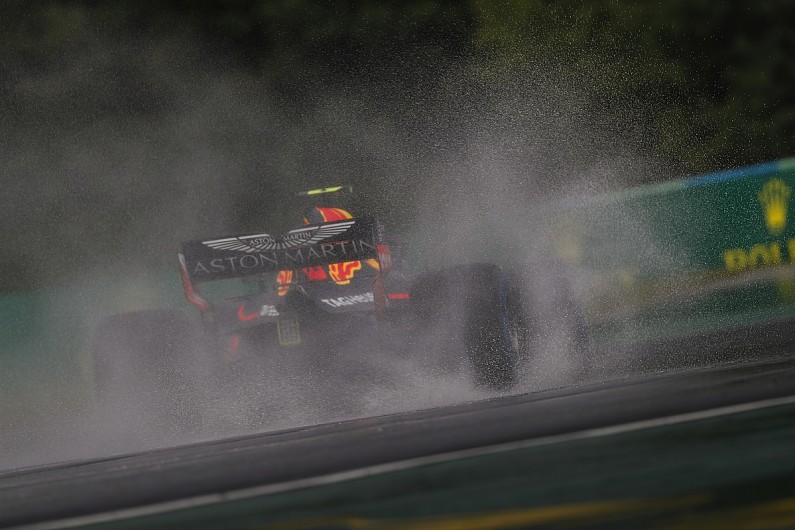 Verstappen said the RB14 was at its worst on full wet tyres in Q3, although he conceded it was also not optimal on intermediates in the second segment - where team-mate Daniel Ricciardo could do no better than 12th after a Lance Stroll spin compromised his best lap.
"The car was just not having a lot of grip, especially on the extreme [wet] tyres we were really struggling, but even on the intermediates it was not fantastic," Verstappen said.
"I don't know why, because otherwise we would've changed it.
"Just sliding around, no grip, locking, mid-corner no grip, no traction. Like driving on eggs."
He had complained about engine driveability on the radio, and said afterwards that the issue was more severe on wets, but added: "At the end of the day we were just slow."
Red Bull was expected to mount a serious challenge in Hungary, but Verstappen believes that even in dry conditions he would have been only "fifth" because of the Renault power unit's deficit to Mercedes and Ferrari.
He explained: "In the dry anyway we had no chance to fight for pole.
"When you're losing seven-eight tenths on the straight, in normal mode, not even the power mode yet, it's way too much."