Carlos Sainz Jr feels sorry for the MotoGP riders who requested Silverstone's resurfacing after getting his first experience of the track in Friday practice for Formula 1's British Grand Prix.
MotoGP riders have complained about bumpy surfaces on several tracks visited by F1 cars, including Silverstone, the Red Bull Ring, Austin and Barcelona.
Earlier this year riders hit out at the attempts made to make the Austin track smoother in the United States, and Sainz suggested they would be unhappy when MotoGP heads to Silverstone next month as well.
When asked if the track was bumpier, Sainz said: "Yes, very weird.
"My friends in Barcelona did an amazing job, too much of a good job because the track was [smooth] like ice and very, very grippy, no bumps at all.
"Here I am surprised that we found probably a step in grip that we found in Barcelona with the grippier tarmac but as bumpy, or even bumpier, than last year.
"I just feel sorry for the MotoGP guys who asked for this change and are probably not going to get what they wanted."
Several other drivers commented on the Silverstone surface after Friday practice.
Four-time world champion Lewis Hamilton had already complained to his Mercedes team over the radio and later added the surface made it "like the Nordschleife".
Hamilton's title rival Sebastian Vettel said it was "a bit funny" because they were "very small bumps, but it's like all the time, chattering around", while Haas driver Kevin Magnussen said the new surface "hasn't really helped anything".
However, not every driver was negative. Although Max Verstappen admitted he expected a smooth a surface he claimed that "some of the really annoying bumps have gone".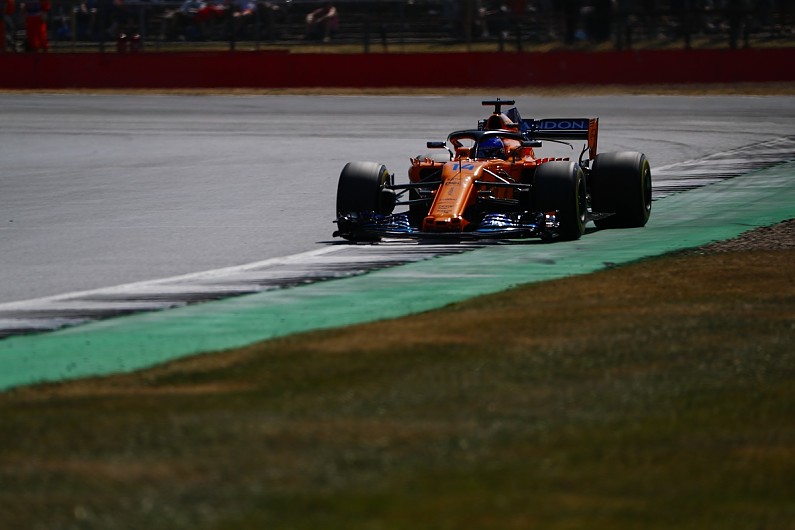 Fernando Alonso believes the drivers complaining about the surface have forgotten how bad it was previously.
"The track is in good condition, good shape," he said. "The new asphalt is better, less bumpy, more grip.
"[Other drivers] don't remember the race last year! It was very very bumpy the last two or three years.
"There's still some bumps, it's the natural ground here, but it's definitely much better than last year."
Silverstone predicted new lap records thanks to the resurfacing, which took place at the start of this year.
Vettel's benchmark in Friday practice was a second faster than 2017, although conditions are considerably warmer this year.