Kevin Magnussen says he almost replicated Haas Formula 1 team-mate Romain Grosjean's heavy crash in British Grand Prix practice trying to use DRS through the first corner.
A third DRS zone has been added at Silverstone that runs from the start-finish straight through Turns 1 and 2, Abbey and Farm, to the heavy braking area of Turn 3.
Grosjean spun there in opening practice after deactivating his DRS too late and crashed, forcing a chassis change that caused him to miss FP2, and Magnussen revealed he could have suffered a similar fate.
"I tried once and nearly ended up like Romain," Magnussen said about using DRS through Turn 1.
"It's not possible for us to do. Red Bull were doing it I think, which is incredible because it's not even close to being possible for us.
"It might be possible [to use DRS through Turn 2] with no fuel in the car, but I'm not sure it'll be faster because you put a lot of energy in the tyres.
"If you have the downforce like Red Bull it looked solid.
"They don't put much extra energy into the tyres, that's the kind of thing we need to take into account."
Grosjean agreed that taking Turn 1 with DRS was "impossible for us, don't even think about it".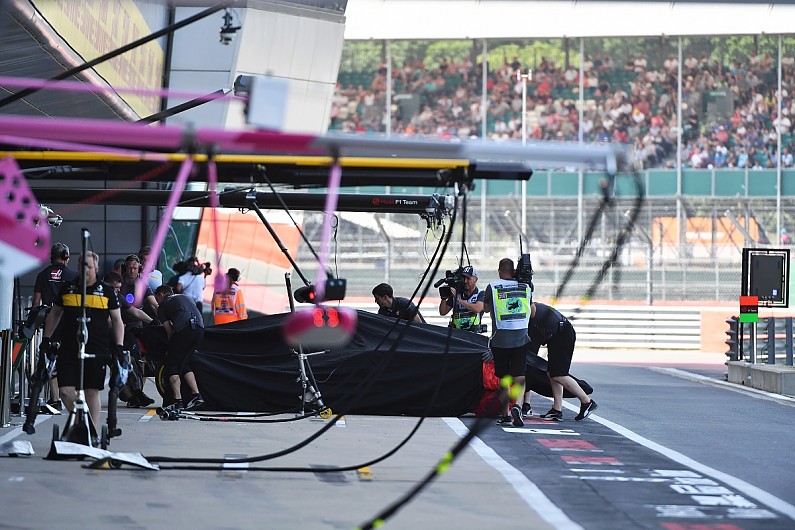 The Frenchman wound up seventh-fastest in FP1 despite his crash, which he was surprised to see cause as much damage as it did.
"It wasn't a big impact but the front wheel came back and removed some part of the chassis," Grosjean explained.
"It was easier to change the chassis than try to repair the aero parts.
"I closed the DRS, but a bit later than the previous lap. The aero flow didn't recover and there was no rear downforce.
"FP3 is going to be quite important for us and we're going to put as much as we can into that.
"Going to qualifying and discovering the track when it's very warm [will be difficult] but hopefully we've learned what we needed to from Kevin and we can apply that to my car tomorrow."