Haas Formula 1 driver Romain Grosjean is now even more convinced his French Grand Prix penalty was "nonsense", and says Esteban Ocon ignored his attempt to apologise for their contact.
The Paul Ricard stewards gave Grosjean a five-second time penalty for making contact with Ocon off the line last weekend.
He expressed surprise over team radio at the time, and showed media at the Red Bull Ring on Thursday onboard video footage that he felt exonerated him.
"Tell me what I did wrong? That's how you get a five-second penalty. Did I move my steering wheel? Did I do anything?" said Grosjean.
"It's absolutely nonsense. That's all I can say.
"I couldn't know he was there because I'm almost on the edge of the track so I'm not expecting a car to be there."
Grosjean said he messaged Ocon, whose race ended in contact with Pierre Gasly later in the lap, to apologise but did not get a response.
"I apologised. I sent him a text saying 'I didn't see you, sorry'," said Grosjean. "Anyway I think he ruined his grand prix two corners later."
Asked by Autosport if Ocon had replied to his apology, Grosjean said: "No. And I flew in with him this morning and he didn't say anything.
"But that's another story. I saw him for an hour and a half on the plane.
"It's alright. It was our home grand prix and everyone wanted to do well."
Grosjean joked that the stewards "were drinking rose wine" when they decided to penalise him for the clash.
"When you see the onboard, [Charles] Leclerc's pushing me to the left, I'm going to the left and then he doesn't move much," he added.
"Obviously I don't want my front wing to be damaged so I moved a little bit to the left as well.
"I got the video this morning and when I saw it I was pretty shocked that I got a penalty for that."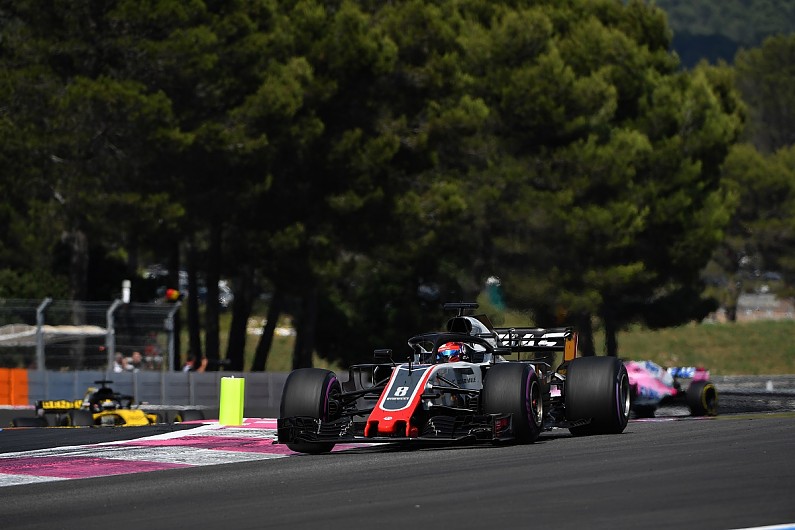 Grosjean ran eighth after the Ocon incident and subsequent contact with Sebastian Vettel, then stayed out until lap 33 of the 53-lap race before pitting in the hope of mitigating the effect of the 5s penalty.
But he ended up 11th, continuing his point-less 2018 run.
Asked how much he felt the penalty affected his race, Grosjean replied: "A lot. Obviously we couldn't pit early because we were trying to open the gap behind and when you know you've got five seconds you try to stay out there.
"But then obviously fitting new tyres earlier is an advantage.
"In those one-stop races where the tyres can pretty much do all the race, it kills you [to stay out].
"When it's a race of high degradation and there's a big difference in lap time then you can live with it or work with it."