Brendon Hartley fears he will receive a grid penalty for the French Grand Prix after suffering a Honda engine problem during Formula 1's second practice session at Paul Ricard.
The Toro Rosso driver stopped with nine minutes left to run in FP2 after a loss of power.
Honda introduced an upgraded F1 engine at the last race in Canada, with Pierre Gasly needing a replacement after a problem emerged in FP3.
Commenting on his "very disappointing end" to a day in which Toro Rosso showed top-10 pace, Hartley said: "I don't have all the details yet, but I think there's a chance to have a penalty.
"We had a problem with the power unit. I can't tell you any more than that.
"It's a little bit disappointing but I'm remaining positive. The pace looks very much again like we're in that tight midfield battle, from anywhere between P7 and near the back of the field.
"If we get everything together we definitely have the pace to score points.
"It could be a tricky weekend for me if I get a penalty, but I don't know if that's the case."
Hartley was 15th in both sessions, while Gasly finished 10th in FP2 after setting the eighth-best time in FP1.
Honda's F1 technical director Toyoharu Tanabe said after the session that Honda needed to "investigate the cause and how bad is the damage, before deciding how to proceed for the rest of the weekend".
Gasly FP1 confusion explained
Toro Rosso was hit with a suspended €10,000 fine for a rare tyre rules breach from Gasly in FP1.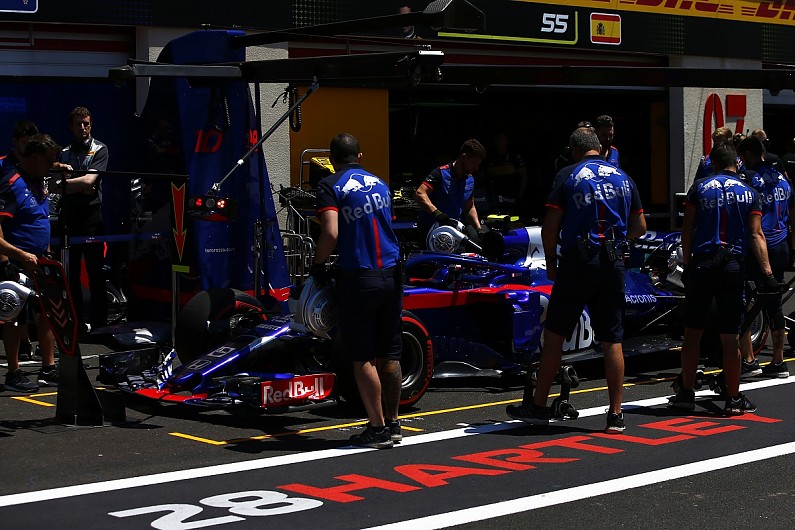 Gasly used the tyres nominated for use for the opening 40 minutes of the season beyond that limit.
The stewards decided to suspend the fine because Toro Rosso explained that a loss of power in the garage occurred 37 minutes into the session and prevented the team from telling Gasly over the radio to pit.
Chief race engineer Jonathan Eddolls said Toro Rosso had already lost time because of a correlation issue between the track in reality and the simulator meant it "didn't necessarily match".
That meant the team had to spend time altering its energy management calculations.
"The team recovered well and we managed to get back out within the 40 minutes," said Eddolls.
"Unfortunately, luck was against us, because we then had an issue with the power in the garage, which meant we lost all of the telemetry and timing, but most importantly we lost the radio.
"So, coming up to the end of the 40 minutes, we weren't able to communicate with the drivers that they needed to box."