McLaren racing director Eric Boullier has defended both the Formula 1 team and himself against British media reports suggesting staff dissatisfaction.
Last weekend the Mail on Sunday suggested that some McLaren employees would like to see former boss Martin Whitmarsh return to the camp, while another article in Friday's Daily Mail said that staff members were frustrated at receiving Cadbury's Freddo chocolate bars as bonuses and again suggested that employees were dissatisfied with the current management.
Boullier said it was inevitable there would be some unhappy people in a large organisation.
"Obviously we are 800 people, we have a lot of support from the workforce and from the engineering," he said.
"I think it's a matter of a couple of people who are grumpy, and actually in some ways it might be good for us, because we've had a lot of feedback, and good feedback.
"At this level of responsibility we are all obviously working for the company, we are all making sure we take our responsibilities.
"There have been a couple of stories about some 'chocolate-gate' in the media today, which have been a bit funny to read.
"Again, it was good because we've had tonnes of emails from people saying this is a joke.
"There are maybe a couple of people grumpy. In any organisation you have some people who agree or disagree.
"We don't know what is the problem of these people, and I think we have invited them to come and see us to see what the problems are, rather than talking through the back door."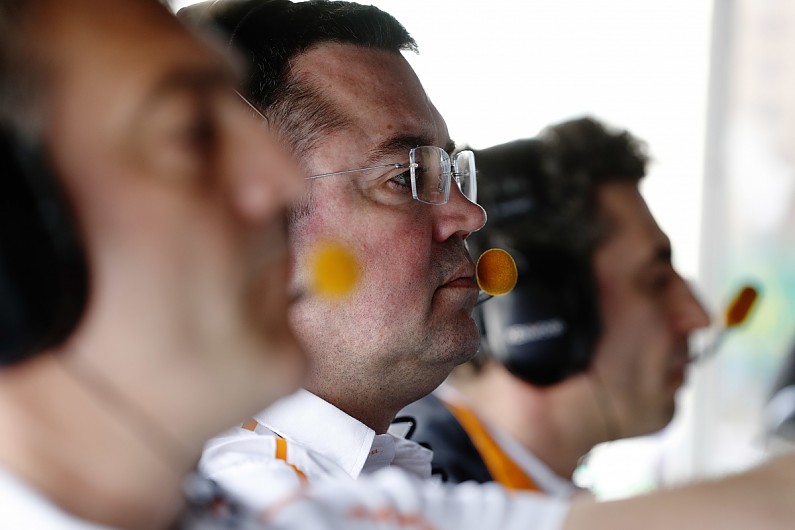 Boullier dismissed a question from the writer of the Mail article suggesting he should resign.
"I've won races and championships with every team I've managed before, including F1, and this is something you cannot take away from me," he retorted.
"We are on a journey, we are not where we want to be, we are not happy where we are.
"But it's a journey, with a new Renault engine partner.
"We have a good team of people."
McLaren had hoped its switch from Honda to Renault engines this season would end its recent struggles, but it has remained in the midfield.
Boullier insisted it was making progress.
"A year ago at this time we had no points at all. We are now in the fight for fourth with Renault," he said.
"We would prefer to be comfortably fourth, which is one of the targets we had assigned to ourselves.
"The car this year obviously is not working exactly as we expected it to be, but we are still using this as an experimental experience, especially this morning for example there were new parts on the car.
"We want to learn from this car, and learn as well working with Renault, because it's a different partner from last year, so we have something new to learn, some of the technical options we have not explored yet."