Romain Grosjean says he is laughing about his tough run in Formula 1 this season after his Canadian Grand Prix qualifying lasted just a few seconds before a smoky end.
The Haas driver had only just left the garage at the start of qualifying when smoke started pouring from the back of his Ferrari-engined VF-18.
He stopped immediately and was wheeled back to the garage, where his session ended before anyone had even set a lap time.
Haas described it as a "power unit failure" that was being investigated.
It means Grosjean, who along with Williams driver Sergey Sirotkin is still yet to score a point this year, will start Sunday's race last while team-mate Kevin Magnussen lines up 11th.
"I'm getting the bad luck for next season and maybe even [beyond]," Grosjean told Sky Sports F1.
"It's a tough series [of bad results], everyone is taking it as good as they can.
"We're laughing about it because at one point that's the only thing you've got to do."
Team boss Gunther Steiner added: "I think we cannot get rid of being unlucky, as much as we don't believe in it.
"With Romain, we were finding a good speed in the car, then we had an issue with the power unit, so that was his day done."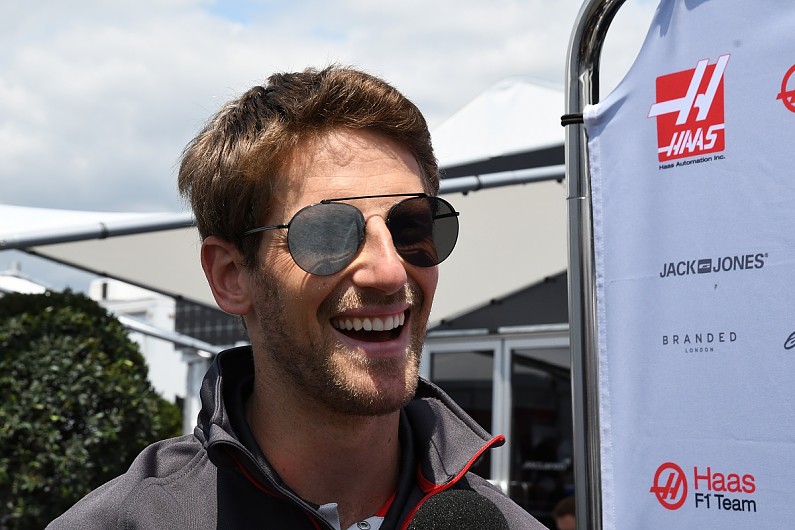 Grosjean has endured a dismal season, which started with a retirement in Australia after a Haas wheelgun error denied him a possible top-five finish.
His car shed bargeboard parts in Bahrain, dropping him to 13th, and he finished 17th in China after an ill-timed safety car.
Grosjean then retired from successive GPs in bizarre fashion, spinning under the safety car in Azerbaijan before causing a big first-lap crash in Spain.
Haas was uncompetitive in Monaco after compromising performance by removing the fragile bargeboard components for the street race, while Grosjean's bizarre run continued when he hit a groundhog in Friday practice in Montreal.
Grosjean said the failure in qualifying was "up there on the podium" for bad luck this year but said the performance of Haas's upgraded car in Canada was a silver lining.
"The positive is the car feels really good with the upgrade, we had a really good pace through practice," he said.
"I knew I could be best of the rest today."