Honda is evaluating how to handle the dilemma over engine components for Brendon Hartley after the Toro Rosso Formula 1 driver's high-speed crash at Barcelona.
Hartley required a complete Honda engine change after losing the rear and smashing into the barriers in final practice for the Spanish Grand Prix.
He missed qualifying but returned for the race with a complete new hybrid engine package - internal combustion engine, MGU-H, MGU-K, turbocharger, control electronics and energy store - and a new gearbox.
That moved Hartley onto his third MGU-H and turbo of the season, because Honda changed both parts after a problem in the Australian GP, and guarantees him a grid drop the next time he changes either component.
"We are thinking to make some options," Honda technical director Toyoharu Tanabe told Autosport.
"We will check the crashed power unit, but it looks like big damage.
"So, Honda will make options on the power unit side, and then we can work with the team on how we can manage the situation.
"Also, we don't know [what will happen] in the next race!"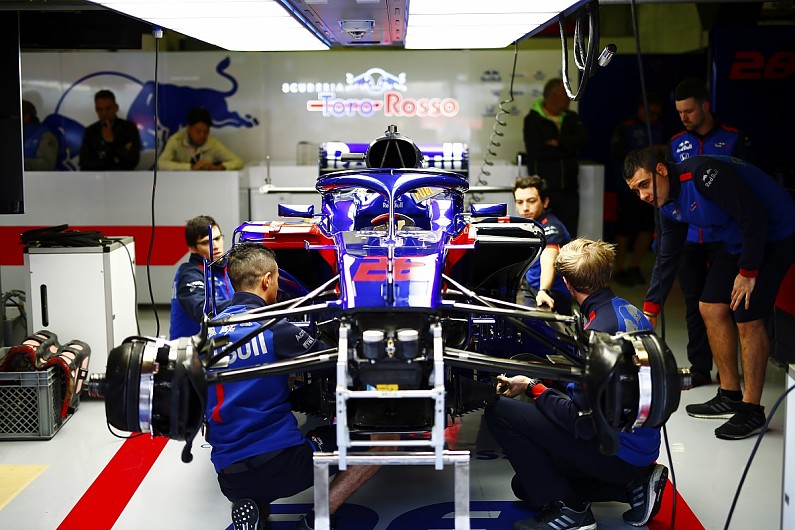 Honda is believed to be bringing its first major update for June's Canadian GP, and given it is pushing to improve its energy recovery systems that almost certainly means a new MGU-H.
The turbo is also usually changed as part of a complete upgrade package.
That, or any other reason to change the parts, would trigger a 10-place penalty the first time an additional element is used and five places for each additional element after.
The question for Honda and Toro Rosso is whether Hartley takes the hit as soon as the upgrade arrives, or continues with the current parts to reduce the number of races the second and third specification of engine will need to complete.
If Hartley could make it to the summer break with the components fitted in Spain he could take a penalty in Belgium, which is a favourable place to take a grid drop because the Spa circuit offers more overtaking opportunities.
But as well as giving him a handful of races with a lower-specification engine, that plan would also require the current engine to complete eight events.
"I haven't really thought that far ahead to be honest," said Hartley, who still has one more free change of combustion engine, MGU-K, control electronics and energy store.
"I don't know what that means in terms of the new parts we introduced."