The FIA has explained why Ferrari's "liberal" and "tenuous" interpretation of the Formula 1 rules around mounting mirrors on the halo has been banned after just one race.
Ferrari became the first team to roll out mirrors attached to the cockpit protection device at the Spanish Grand Prix, placing a winglet above the housing supporting it.
It attracted attention from several teams, with Force India technical director Andrew Green admitting he thought that design was not allowed, but it was passed legal for the weekend.
It emerged that the FIA had sought to clarify that Ferrari would need to alter the device for the next race in Monaco, and FIA race director Charlie Whiting has now explained why.
"It's a liberal interpretation of the word 'mounting' because that's how they become legal," he said.
"The interpretation hinges on whether we think that's a mounting or not. We somehow think not.
"They think it contributes to the rigidity of the mirror.
"I doubt they would be there if there wasn't a measurable aero advantage, but these days that doesn't have to be big.
"We sent a technical directive a few weeks ago in response to a number of questions from other teams about whether the principle of mounting a mirror on the halo was acceptable.
"We answered yes, and gave a few stipulations, one that it has to be a mounting.
"It's just a matter of interpretation and such a tenuous interpretation is not something we're happy with."
Whiting said that if the design appears in Monaco "we're probably going to see the stewards about it".
Asked if the device was effectively banned, despite not breaching a specific regulation, he replied: "Yes, you could say that."
Ferrari was allowed to continue running the mirrors in Spain because it is FIA precedent to be "reasonable" when a matter is not a clear rule break and down to a difference in interpretation.
But Ferrari driver Sebastian Vettel does not understand why it is being banned at all.
He said it was no different to teams using aerodynamic pieces when the mirror is mounted elsewhere on the car and suggested "everybody needs to change part of their mirrors" as well.
"For us it is straightforward, we see better," he said. "That was the point of moving them.
"We asked already in the beginning of the year during the first seat-fit with the halo if we can move them on the halo.
"The winglet, I think we're doing the same as everybody else with their mirrors."
Autosport says
Gary Anderson, Technical Contributor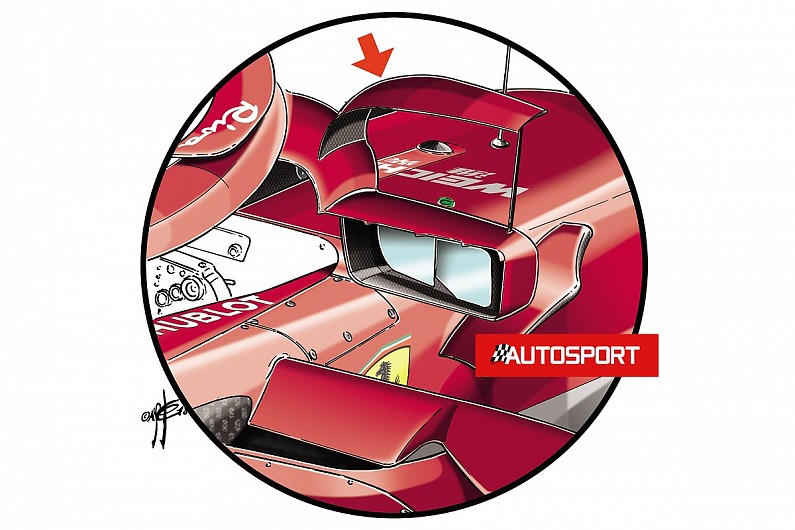 Ferrari has opened a can of worms by becoming the first team to move its rear-view mirror mountings from the chassis to the halo.
Clearly, its objective was to get a higher-mounted turning vane to help pull more mass airflow down into the top opening of the sidepods.
This upper turning vane is quite a distance from that opening, but getting the flow to turn in that direction means that the low pressure behind the internal radiator will pull airflow into the inlet duct, and hence through the radiator.
The mirror itself is not a million miles away from the original mounting position, so it clearly hasn't been done with rear vision as the prime motivation despite Vettel saying it has made a difference.
Mounting it on a single vane, with the secondary supposed 'support' also coming off that vane, effectively reveals Ferrari's reasoning.
My big question is why was Ferrari allowed to run it at all? The original mirrors were still there, as we saw the car with both mirrors attached on Friday.
Well done to the FIA for saying it must change it for Monaco and not letting it get out of hand.
But, in reality, it should have told Ferrari on Thursday before this event started that the mirrors needed to be changed for Barcelona.