More than two decades have passed since Ayrton Senna's death in the 1994 San Marino Grand Prix, but he remains one of the most famous Formula 1 drivers of all time.
Senna's 10-year F1 career was action packed, winning championships, setting records, and being part of rivalries that took the pinnacle of the sport to new heights in terms of popularity and media coverage worldwide.
Here, we count down 10 moments from his career that will never be forgotten.
10 / Japanese GP 1990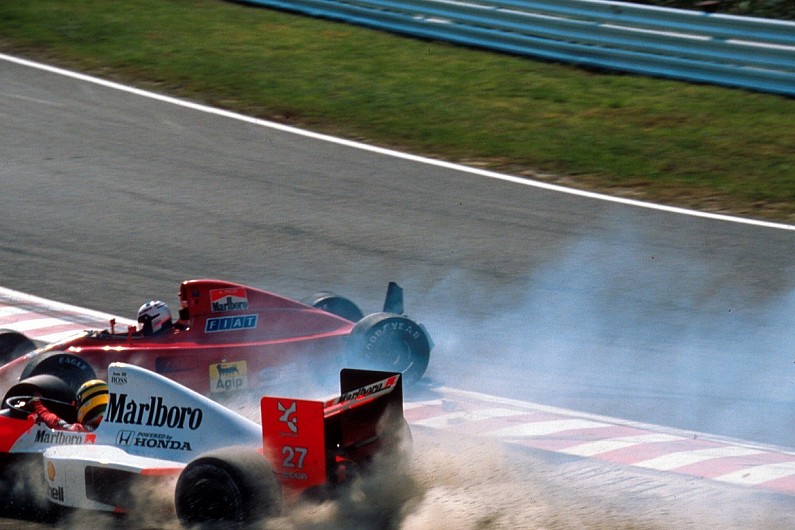 This one ranks lowest on our list as while it is memorable, it was ultimately for the wrong reasons.
Senna and bitter rival Alain Prost returned to the scene of their 1989 implosion once again fighting for the world championship, but this time in different teams.
While their collision at the chicane the previous year decided the title in Prost's favour, this time Senna was the driver with the advantage heading to Japan.
The build up to the race was not without controversy, as Senna raged about pole position being on the wrong side of the grid. Privately, he vowed before the race that if Prost - starting second on the clean side of the track - made a better start, Senna wasn't going to back out at the first corner.
Amazingly, given the speeds and the danger involved, he stayed true to his work, taking Prost out at high-speed and eliminating both on the spot. It won Senna the championship, and one year later he confessed.
---
9 / Falling out with Schumacher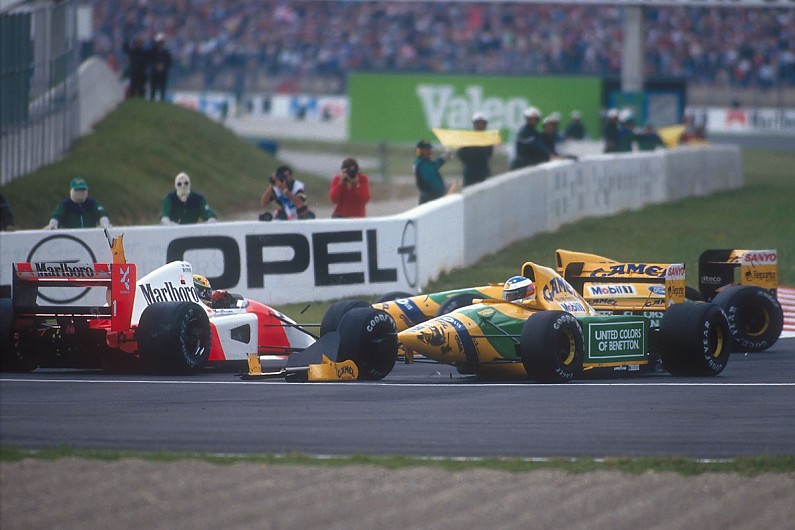 Senna vs Michael Schumacher is one of the great F1 rivalries that never happened, but we got a glimpse of it in 1992 when the young German was in his first full season in F1.
Their first misunderstanding occurred at the Brazilian GP, when Schumacher criticised Senna for driving inconsistently - which the McLaren driver countered by saying he had an engine problem that was affecting his pace.
Schumacher then felt the wrath of Senna after clattering into the back of him at the start of the French GP, and under a subsequent red flag Senna gave the youngster a very public, but relatively calm, one-to-one dressing down on the grid in front of the world's cameras.
They came to blows again two races later in Germany, with Senna confronting Schumacher to accuse him of holding him up in practice, and the Benetton driver saying that he saw the McLaren but didn't think he was going fast enough to be let through.
---
8 / War of words with Stewart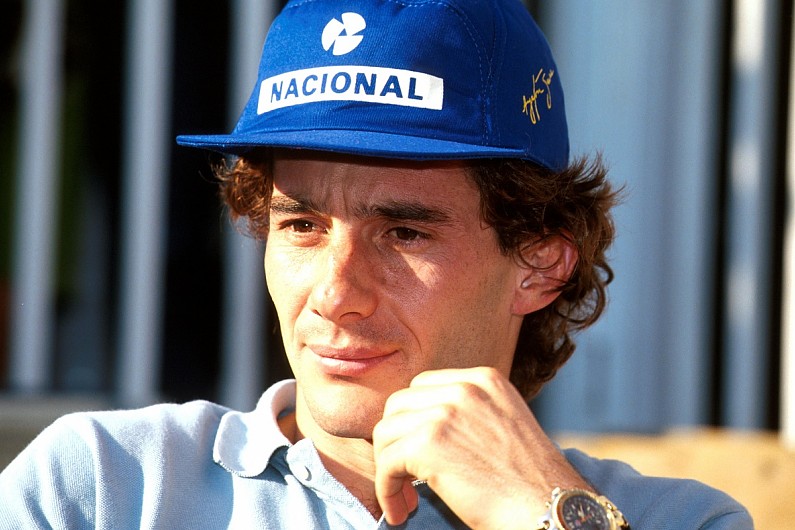 In the wake of the Suzuka 1990 collision, Senna was taken to task in Adelaide at the following race by three-time world champion Jackie Stewart, where he gave an impassioned defence of his actions against Prost.
But the conversation took a turn when Stewart suggested Senna had made more contact with other drivers than all the previous world champions put together.
"I find amazing for you to make such a question, Stewart, because you are very experienced, and you know a lot about racing," Senna's response began.
Later in the answer, one of Senna's most famous quotes was born: "If you no longer go for a gap, you are not a racing driver."
As Stewart continued to push the point, Senna interrupted to say "It is all irrelevant, all what you are saying, Jack, it's really irrelevant".
From then on the discussion became more heated, with Senna pointing at Stewart and ordering him to go back over the previous 10 years of F1 history to find that "perhaps what you are saying is not quite right".
---
7 / Wheel-to-wheel with Mansell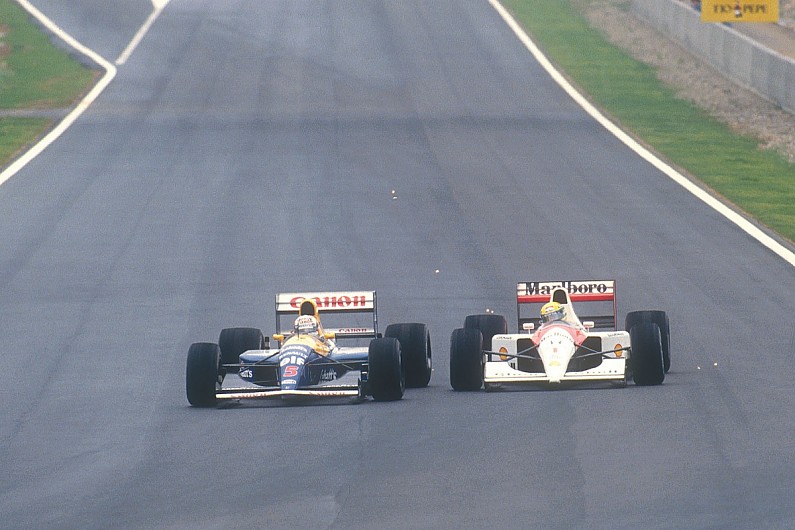 Senna being overtaken was relatively rare, and the most famous of those passes involved Nigel Mansell in the 1991 Spanish GP.
Battling for second place at the time on a damp circuit, Senna had been covering the inside line down the main straight - but when Mansell got a better run out of the final corner and was able to pull alongside a drag race was under way.
It might seem strange to include a moment like this in a list about Senna, but for all the occasions where his on-track etiquette could be legitimately called into question, this was an example of supreme precision from both drivers, who could be seen looking towards their front wheels as they edged closer together.
Senna didn't give Mansell an inch, but he also refrained from swerving to try to run him off the road, showing that he could race hard but fair when he wanted to.
---
6 / Japanese Grand Prix 1988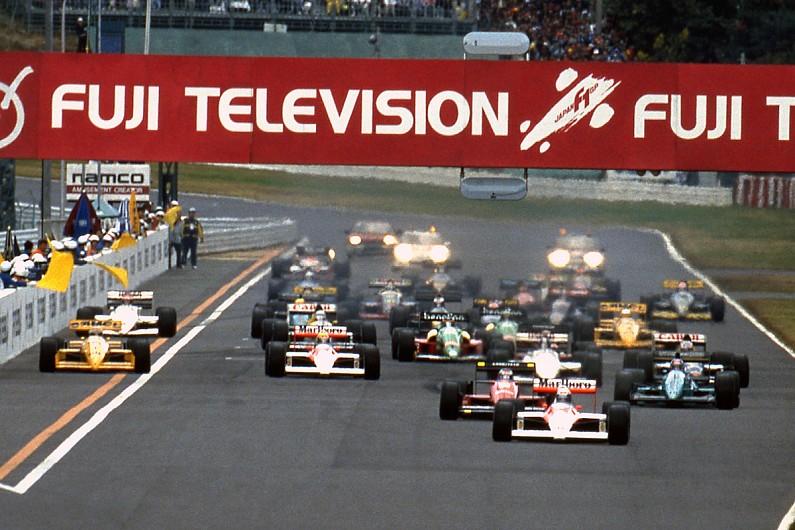 Senna's first world championship was inevitably sealed in dramatic fashion. The scene was set for him to be crowned champion if he could win the race, but he plummeted down the order at the start as he struggled to get his McLaren off the line.
He dropped into the middle of the pack, although by the end of the opening lap he'd already hauled the dominant MP4/4 back up to eighth place.
By lap 28 of 51 Senna was back on Prost's tail fighting for the lead, and he completed a remarkable comeback by passing his team-mate down the start/finish straight as they lapped a backmarker.
Prost continued to give chase to the end, only slipping back in the closing stages as rain started to fall and he battled a gearbox problem. But the day belonged to Senna.
---
5 / Brazilian Grand Prix 1991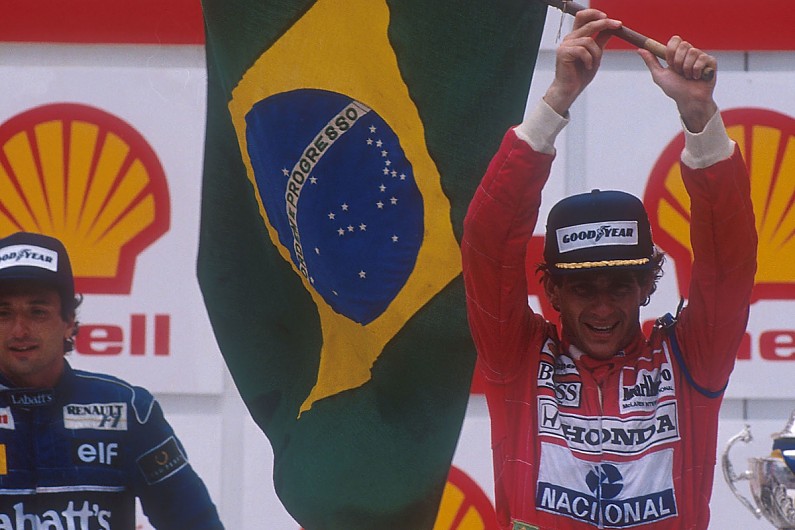 For all of Senna's phenomenal success in F1, for the majority of his career success on home soil proved hard to come by.
By 1991 he was a two-time world champion, but he'd still not been able to win the Brazilian Grand Prix. That would all change, but in dramatic circumstances.
Once Mansell's Williams retired, Senna was left with a huge lead of 40s over Riccardo Patrese, but over the remaining laps that gap would tumble as gearbox troubles eventually left Senna stuck in sixth gear.
With Patrese taking as much as six seconds per lap out of the ailing McLaren, Senna gesticulated to officials to stop the race when it started to rain, but he somehow held on to win by fewer than three seconds.
An exhausted Senna, who could be heard screaming down his radio after the chequered flag, could barely get out of his car as his body went into spasms, but he overcame the excruciating pain to raise his trophy and then the Brazilian flag on the podium in front of his adoring fans.
---
4 / Monaco Grand Prix 1984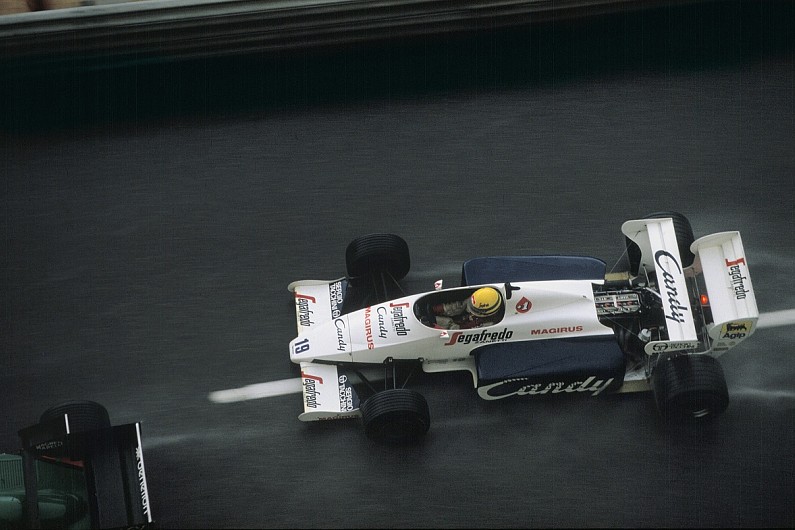 Senna arrived in F1 in 1984 with a glowing reputation from his time in the junior categories in Britain. He backed that up quickly with the unfancied Toleman team, and could have won just his fifth grand prix.
In an early example of the wet weather mastery he would become famous for during his career, Senna was hunting down race leader Prost when the race was red flagged due to the conditions after just 31 laps.
In the four laps before the stoppage Senna had turned Prost's 21s lead into an advantage of just seven, and while he didn't get the winner's trophy that day, he had firmly announced his arrival on the grand stage.
There are doubts over whether Senna could have made it to the finish. He'd hit the kerbs hard at the chicane and he'd damaged one of his car's dampers, plus there was Stefan Bellof's Tyrrell - which had just started catching him in those final laps and could have been a factor in the fight for victory as well.
---
3 / Portuguese Grand Prix 1985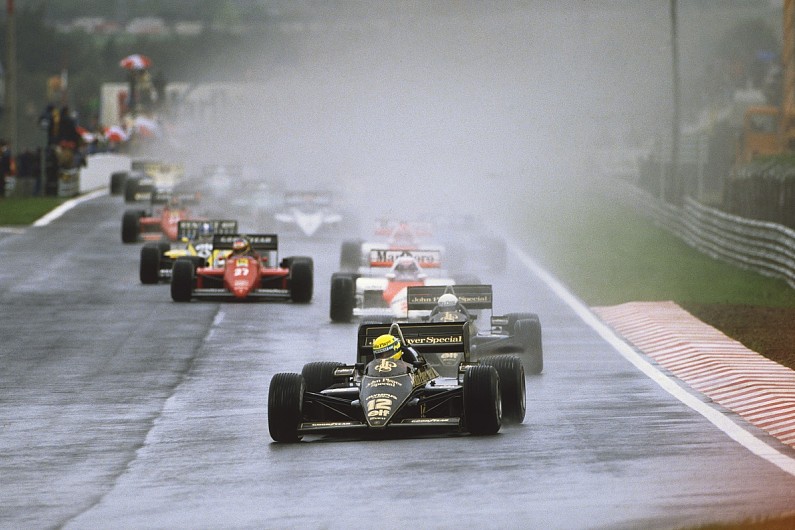 It perhaps came as little surprise that Senna's first win, when it finally came, was taken in torrential conditions.
Senna was in a class of his own on just his second start for Lotus, leading every lap to win by more than a minute, with only Ferrari's Michele Alboreto able to finish on the same lap as the Brazilian.
Only two drivers - Alboreto and Prost - managed to get within one second of Senna's fastest lap that day.
---
2 / Monaco qualifying 1988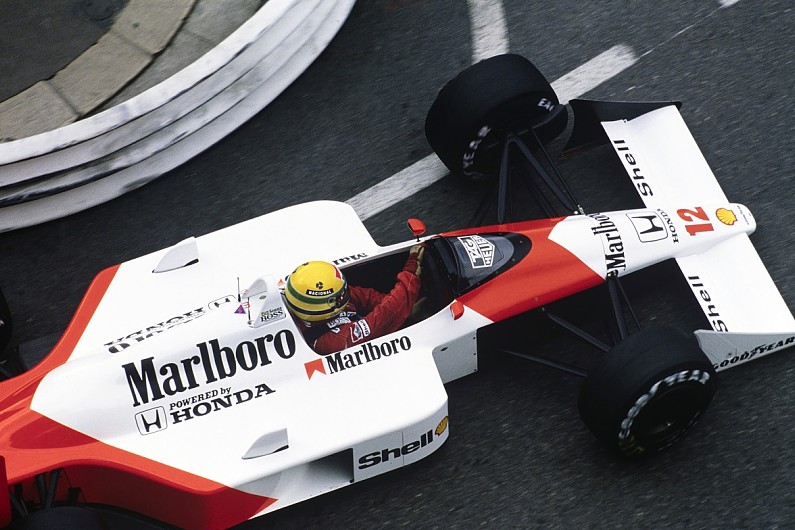 It's widely considered the greatest F1 qualifying lap of all time, when Senna trounced Prost to the tune of 1.427s around the streets of Monte Carlo.
If that achievement wasn't impressive enough, what Senna said about the lap afterwards was just as remarkable.
"I was kind of driving it by instinct, I was in a different dimension," he said.
"I was in a tunnel, well beyond my conscious understanding. Some moments when I am actually driving, just detach me completely from anything else.
"On that day, I said to myself, that was the maximum for me, no room for anything more. I never really reached that feeling again."
---
1 / European Grand Prix 1993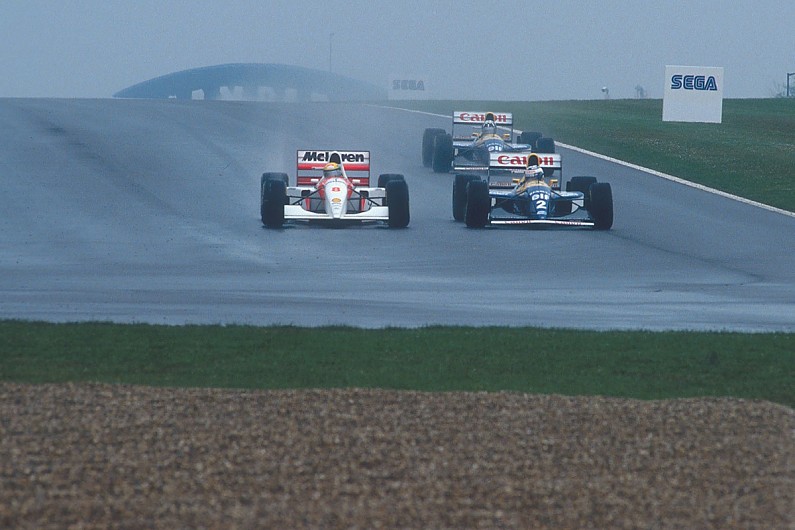 If Monaco '88 was the greatest qualifying lap of all time, then Donington '93 is the greatest opening lap of a race in F1 history.
From fourth on the grid, Senna was briefly shuffled down to fifth at the start, with Murray Walker's commentary famously noting "and Senna is crowded out!" as Schumacher squeezed him into the pit exit.
Senna instantly repassed the Benetton exiting Redgate, then swept around the outside of Karl Wendlinger's Sauber at the bottom of the Craner Curves to complete a pass for third place into the Old Hairpin.
In the very next braking zone, he slithered up the inside of Damon Hill's Williams at McLean's, leaving just race leader Prost to overcome.
At the Melbourne hairpin Senna launched his attack, diving to the inside of Prost to take the lead. One hour and 50 minutes later, he crossed the line to win Donington's only world championship F1 race by 1m23s ahead of Hill, with the rest - including Prost - at least one lap down.