Pierre Gasly has labelled Haas Formula 1 rival Kevin Magnussen "the most dangerous" driver he has ever raced against following their clash in the Azerbaijan Grand Prix.
The duo made contact as they took the late-race restart in Baku, after Magnussen moved to the left and hit the Toro Rosso as they fought for position at the very fast Turn 20 that leads into the main straight.
The FIA deemed Magnussen's move "unpredictable and unnecessary" and handed him a 10-second penalty and two penalty points.
An angry Gasly hit out at the Haas driver, suggesting he had put him in the wall at 300km/h on purpose.
"Kevin is the most dangerous guy I've ever raced with," said Gasly. "He literally put me in the wall at 300km/h at the restart.
"I went on the side and he just put me in the wall right in the middle. Both my front wheels went in the air and broke my right mirror and bent my steering as well.
"He told me he didn't see me because he had vibrations and damage. I don't care about all this. He did all the race like this so he knew exactly what he was doing and he literally put me in the wall.
"He's been always like this, he's been always racing hard. I don't mind racing drivers who are hard, but like this it's just way over the limit. You don't put someone in the wall at 300km/h."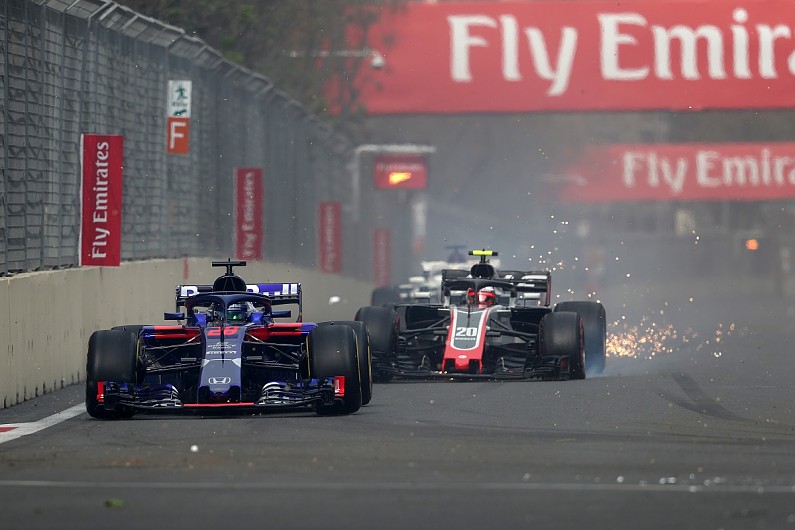 Magnussen is now on eight penalty points, four away from the 12 that would translate into a race ban.
He will lose one point on Monday, however, dropping to seven, as it has been 12 months since it was awarded for rejoining the track incorrectly during last year's Russian GP.
Sunday's incident was Gasly's second big scare of the weekend, after he nearly crashed into team-mate Brendon Harley during qualifying on Saturday. He also had near-misses with both Haas drivers in Friday practice.
When told of Gasly's comments about his driver, Haas team principal Gunther Steiner had little sympathy for the Frenchman's complaint.
"That [dangerous] is what he called Hartley, his team-mate, yesterday so nothing changed there," Steiner said.
"Sometimes you need to think for yourself as well. He's pretty new here. We wait until he makes mistakes."