McLaren insists the various reliability problems that have struck its Formula 1 car during the second week of pre-season testing are unrelated and not indicative of a flawed design concept.
The new MCL33 caused two red flags during Tuesday's running at Barcelona, thanks to an electrical shutdown and a hydraulic leak.
Fernando Alonso briefly topped the timesheet during Wednesday morning's running, before stopping on track with an oil leak that required a change of the McLaren's Renault engine.
The team's racing director, Eric Boullier, explained the oil leak caused the engine to fail, rather than resulting from a problem with the engine itself, and said there were no further problems with the car's battery, which is of a different specification to Tuesday's.
McLaren has set decent lap times by focusing on the softest available tyre compounds, but Boullier urged observers not to read too much into this, or McLaren's spate of problems.
"It is just testing," he said. "First off, the entire story - if you look at the lap time, Red Bull did a test this morning with new medium and new soft, half a second faster only, so there is not much difference because of Tarmac specification and temperature as well.
"As I said last week, we had some technical reason why we wanted to work on the cars with these tyres.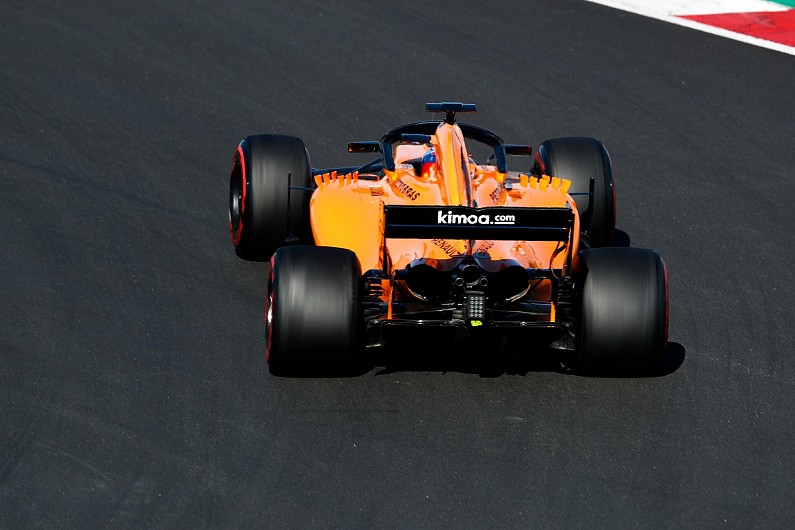 "The car breaking down - we have some little issues which we have to fix, but it is just testing. It is part of the process.
"We are on top of this and it is a new partnership with Renault, new packaging, completely new packaging for the car as well. This is testing, give us time - it is fine."
McLaren has also made a 'quick-fix' modification to its engine cover to prevent exhaust heat from repeatedly burning the car, but Boullier insisted this does not yet indicate a problem with the overall design of the package.
When asked whether he felt the reliability problems were linked to overly tight packaging at the rear of the car, Boullier replied: "I don't think it is related, no.
"Obviously we try to design the best car, so we have to be convinced about the car concept, and with a new car concept you have to prove out on track if it works or not.
"There is an adjustment - we are trying to make the best out of our car to make sure the aerodynamic platform is delivering much more, so we will see.
"We are now about to fine-tune, and the leak we have is nothing related to that."
Boullier said the cooling modifications would not affect McLaren's planned Melbourne upgrade package, but conceded time lost to these reliability niggles is hurting McLaren's understanding of its new car and engine.
"We are trying to make a plan and every time we lost some track time we have to revise the plan and make some other priorities - so some things we will not test," he added.