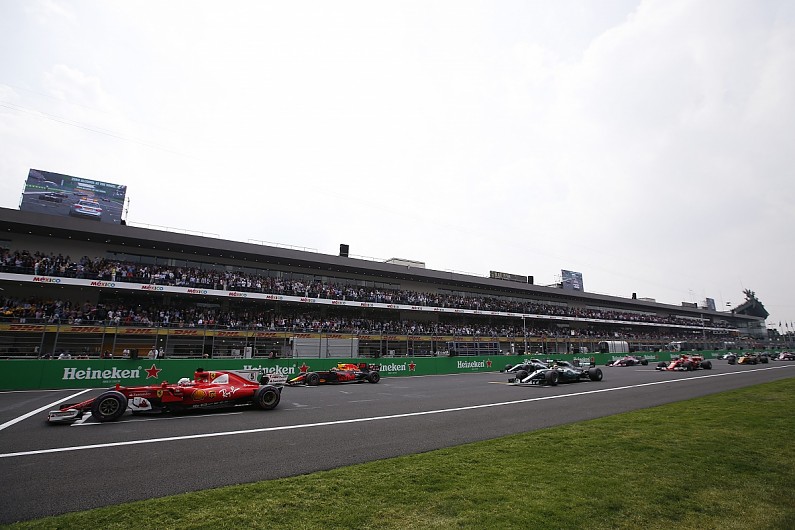 Formula 1 chiefs have announced there will be a shake-up of the weekend schedule this year, as predicted by Autosport last week, with many European races now starting at 3.10pm.
As Liberty sets about its overhaul of grand prix racing, F1 has announced the biggest shake-up in the F1 schedule for years.
As reported last week, the entire weekend timetable at European races will be shifted back in a bid to help attract a larger television audience.
The races will now start 10 minutes past the hour, to allow broadcasters to better incorporate the pre-race build-up if their programming starts on the hour.
A statement issued by F1 said: "Some broadcasters usually go on air precisely on the hour, hence missing the tension and emotion that characterize the minutes before the start of each Grand Prix.
"Thanks to this change, television viewers will be brought closer to the teams and the drivers and fully enjoy the spectacle offered just before the red lights go out."
The French Grand Prix will also start at 4.10pm local time to avoid a clash with the World Cup group game between England and Panama.
F1 added: "Other minor adjustments have been made in order to avoid clashes with other major sports events like the FIFA World Cup, to allow for differing sunset times, and to attract a wider attendance to promoters' events."
2018 F1 schedule
| | | | | | |
| --- | --- | --- | --- | --- | --- |
| Race | FP1 | FP2 | FP3 | Qualifying | Race |
| Australian Grand Prix | 12:00-13:30 | 16:00-17:30 | 14:00-15:00 | 17:00-18:00 | 16:10 |
| Bahrain Grand Prix | 14:00-15:30 | 18:00-19:30 | 15:00-16:00 | 18:00-19:00 | 18:10 |
| Chinese Grand Prix | 10:00-11:30 | 14:00-15:30 | 11:00-12:00 | 14:00-15:00 | 14:10 |
| Azerbaijan Grand Prix | 13:00-14:30 | 17:00-18:30 | 14:00-15:00 | 17:00-18:00 | 16:10 |
| Spanish Grand Prix | 11:00-12:30 | 15:00-16:30 | 12:00-13:00 | 15:00-16:00 | 15:10 |
| Monaco Grand Prix* | 11:00-12:30 | 15:00-16:30 | 12:00-13:00 | 15:00-16:00 | 15:10 |
| Canadian Grand Prix | 10:00-11:30 | 14:00-15:30 | 11:00-12:00 | 14:00-15:00 | 14:10 |
| French Grand Prix | 12:00-13:30 | 16:00-17:30 | 13:00-14:00 | 16:00-17:00 | 16:10 |
| Austrian Grand Prix | 11:00-12:30 | 15:00-16:30 | 12:00-13:00 | 15:00-16:00 | 15:10 |
| British Grand Prix | 10:00-11:30 | 14:00-15:30 | 11:00-12:00 | 14:00-15:00 | 14:10 |
| German Grand Prix | 11:00-12:30 | 15:00-16:30 | 12:00-13:00 | 15:00-16:00 | 15:10 |
| Hungarian Grand Prix | 11:00-12:30 | 15:00-16:30 | 12:00-13:00 | 15:00-16:00 | 15:10 |
| Belgian Grand Prix | 11:00-12:30 | 15:00-16:30 | 12:00-13:00 | 15:00-16:00 | 15:10 |
| Italian Grand Prix | 11:00-12:30 | 15:00-16:30 | 12:00-13:00 | 15:00-16:00 | 15:10 |
| Singapore Grand Prix | 16:30-18:00 | 20:30-22:00 | 18:00-19:00 | 21:00-22:00 | 20:10 |
| Russian Grand Prix | 11:00-12:30 | 15:00-16:30 | 12:00-13:00 | 15:00-16:00 | 14:10 |
| Japanese Grand Prix | 10:00-11:30 | 14:00-15:30 | 12:00-13:00 | 15:00-16:00 | 14:10 |
| United States Grand Prix | 10:00-11:30 | 14:00-15:30 | 13:00-14:00 | 16:00-17:00 | 13:10 |
| Mexican Grand Prix | 10:00-11:30 | 14:00-15:30 | 10:00-11:00 | 13:00-14:00 | 13:10 |
| Brazilian Grand Prix | 11:00-12:30 | 15:00-16:30 | 12:00-13:00 | 15:00-16:00 | 15:10 |
| Abu Dhabi Grand Prix | 13:00-14:30 | 17:00-18:30 | 14:00-15:00 | 17:00-18:00 | 17:10 |
*FP1, FP2 on Thursday
Autosport has produced a standalone special magazine to celebrate our 70th birthday. All current print subscribers will receive a copy for free. To order your copy of the 196-page Autosport 70th Anniversary issue, please go to: autosport.com/autosport70th