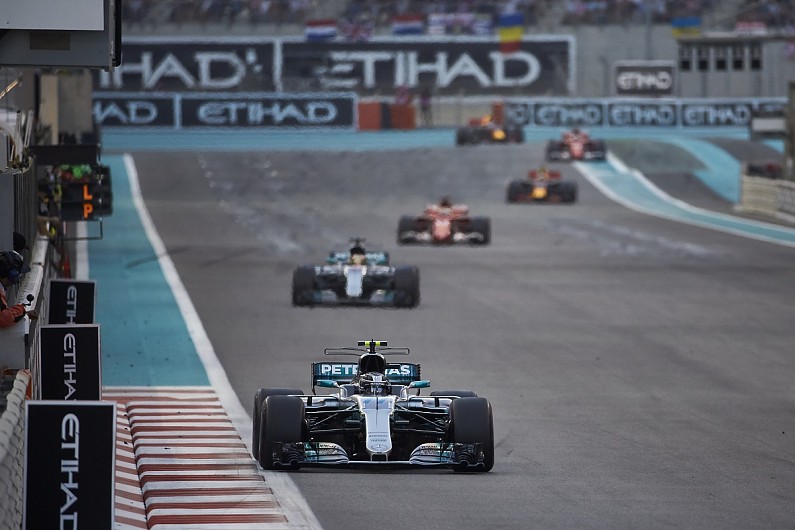 The 2017 season-ending Abu Dhabi Grand Prix was a good demonstration of why Formula 1 needs change, according to CEO Chase Carey.
Valtteri Bottas led home Mercedes team-mate Lewis Hamilton from start to finish at the Yas Marina circuit, which produced a dull end to the season.
Speaking at the BRDC's 2017 awards ceremony, Carey insisted that F1 teams understand the need to create closer competition and promote better racing.
"Abu Dhabi puts on a great show and a great event," he said. "But the race in Abu Dhabi was not what we want in the sport today.
"I think there's broad-based agreement amongst the teams.
"Obviously on specifics there'll be differences, but there's broad-based agreement on things we need to do to make the competition better, make the action better."
Carey said that to "make the sport more captivating" it was necessary to have a system that would make "other cars have a chance to win, have the unexpected happen".
He added: "Everybody knows the initiatives we have in terms of engines and costs and rules and the like.
"We're all driving to achieve that."
Since taking over F1 Liberty Media has not just focused on on-track changes, with its introduction of a new logo after the Abu Dhabi GP sparking anger among supporters.
Carey conceded it will always be difficult to make long-term fans of the sport to accept change.
"Probably the people who have been with it the longest, and are the hardest core fans, they're the ones that have liked what they've grown up with," he said.
"They are the foundation of the sport, so our historic fans are tremendously important.
"But we want to bring new fans in, and to bring new fans in we have to continue to find ways to respect the history and what's made the sport special, but also find ways to entice and engage new fans.
"We've got to bring in a new generation."
Carey said F1 has "great stars, a great brand, great heroes"and believes it still "shocks and awes fans".
"It's great, but we can make it much better," he said. "And it starts with the sport on the track.
"We can make the competition better, the action better, and then around it we want to make sure it's a sport that captures everybody's imagination, an event that captures people's imagination.
"We've used the word spectacle, and it should be."